The Winklevoss twins. Who? Would be the first question. Let me tell it in a different way, remember the pair that sued mark zuckerberg (founder of facebook, don't tell them though!!) played by Arnie hammer in "Social Network"? Now you got it. That's them, the winklevoss twins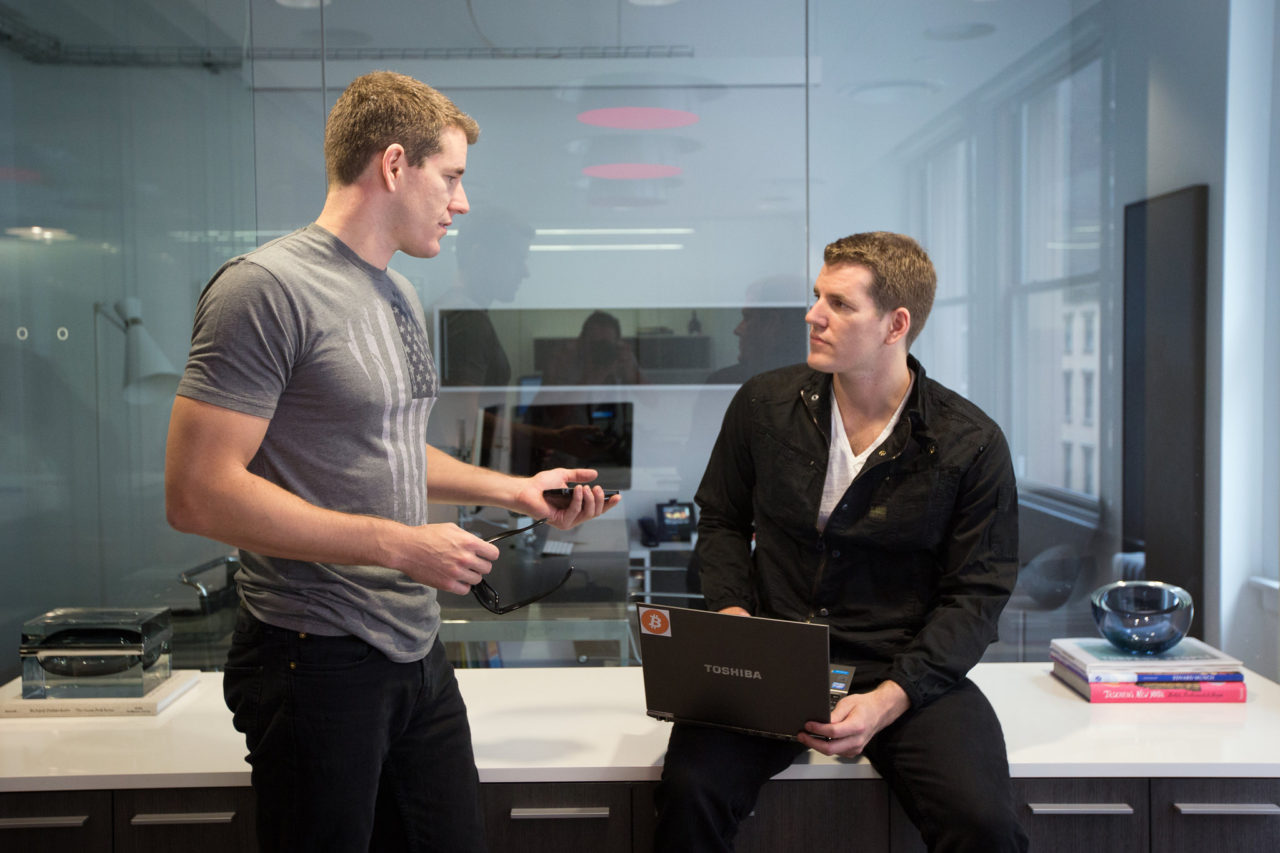 The Winklevoss twins (born August 21, 1981), collectively referred to as the Winklevi or Winklevii, are American rowers and Internet entrepreneurs, Cameron Winklevoss and Tyler Winklevoss. They competed in the men's pair rowing event at the 2008 Beijing Olympics.
They are known for co-founding HarvardConnection (later renamed ConnectU) along with Harvard University classmate Divya Narendra. In 2004, the Winklevoss brothers sued Facebook founder Mark Zuckerberg, claiming he stole their ConnectU idea to create the popular social networking site, and ultimately received $65 million.
They are now venture capitalists, and have led a seed funding round for bitcoin payment processor BitInstant. In April 2013, the brothers claimed they owned nearly 1% of all bitcoin in existence at the time.
Education and early life
The Winklevoss twins were born in Southampton, New York, and raised in Greenwich, Connecticut. Their father is Howard Edward Winklevoss, Jr.; Howard was a professor of actuarial science at the Wharton School of the University of Pennsylvania. He is the author of Pension Mathematics with Numerical Illustrations, and founder of Winklevoss Consultants and Winklevoss Technologies.
The twins went to the Greenwich Country Day School before attending the Brunswick School for high school. They showed a fondness for the classics in high school, studying Latin and Ancient Greek. During their junior year, they co-founded the crew program. They enrolled at Harvard University in 2000 for their undergraduate studies where they majored in economics, earning B.A. degrees and graduating in 2004. At Harvard, they were members of the men's varsity crew, the Porcellian Club and the Hasty Pudding Club.
In 2009, they began graduate business study at the Saïd Business School at the University of Oxford and completed MBA degrees in 2010. While at Oxford, the brothers were members of Christ Church, and rowed in the Blue Boat in the Oxford-Cambridge Boat Race earning them an Oxford Blue.
Their latest involvement in the financial and technology world has to be Bitinstant, their Bitcoin exchange. The two announced in October 2015 that New York State's financial services department has approved their exchange, Gemini, as a limited liability trust.
The license gives Gemini many of the same powers as a bank: It can take customer deposits, make loans and swap fiat currencies for bitcoin and vice-versa in most states. It's subject to the same financial regulations as established "trust banks" like State Street and Rockefeller Trust.
Tyler Winklevoss, who serves as Gemini's chief executive, said the company opted for the more traditional trust certification instead of the department's new digitally tailored BitLicense because they want their services to appeal more to everyday customers beyond financial institutions.
"We wanted to build an exchange that both Main Street and Wall Street could use and trust," he said in a statement.
The approval marks only the second such charter the department has given to a bitcoin-focused financial institution — and the third license of any kind. Another exchange called ItBit earned a similar designation in May, and last month Circle Internet Financial received the first-ever BitLicense, a new business permit designed especially for digital currencies.
"Bitcoin potentially could be more impactful because being able to donate $0.50 to someone across the world has more impact than potentially sharing a picture," Winklevoss said in a 2014 interview with The Guardian.
That's despite the cryptocurrency's very checkered record in the last year or so. Bitcoin had a dismal 2014, during which it underperformed every world currency — including the Russian ruble and the Ukrainian hryvnia. Its value has plummeted from a late 2013 high of more than $1,100 to just $580 today.
The 2014 collapse of Tokyo-based Mt. Gox, the world's largest bitcoin exchange, was a high-profile disaster that left nearly half a billion dollars in bitcoin mysteriously missing. The Winklevoss twins were themselves bitten by its collapse.
Charlie Shrem, founder of a startup called BitInstant that the Winklevoss twins invested in, is now in jail.
Throughout the turmoil, the twins have remained staunchly bullish about the currency's prospects, staying true to the same stubborn resolve they displayed in endlessly litigating their former Harvard classmate.
"These guys were built to win — they're not just gonna 'move on.' They're not going to see that the game's over and Mark won in a rout," screenwriter Aaron Sorkin, whose 2010 screenplay for the Social Network famously traced the fraught relationship, told Vanity Fair in a 2011 profile of the brothers.
In early 2014, their firm, Winklevoss Capital, launched the "WinkDex," a bitcoin index that lets you monitor the price of bitcoin in real time. They are still waiting for SEC approval of a bitcoin investment fund they submitted for in 2013. The papers for Gemini's license were first filed in July.
Bitcoin optimists are hoping the latest wave of new ventures will take pains to meet regulatory expectations and further legitimize bitcoin as an established world currency.