As a part of the tech in Techstory, we bring you the latest in the technology from around the world under "TECH THIS WEEK!" every Sunday! This week we saw that Samsung using IBM's TrueNorth chip to create the digital eye and NASA unveiling its research to the public in their latest PubSpace. We also saw Intel unveiling its first ready to fly drone attracting software developers and Pizza Hut delivering the first DJ Pizza Box. In case, if you've missed any of those, along with Google's latest video calling feature Duo, don't worry just keep reading !
Samsung Uses IBM's TrueNorth to Create Digital Eye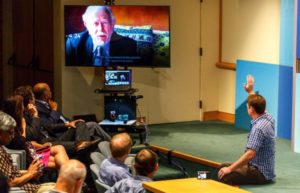 Samsung is using IBM's TrueNorth chip to create a biologically inspired digital eye. TrueNorth is a neuromorphic CMOS chip produced by IBM.
TrueNorth is a manycore network on a chip design, with 4096 cores in the current chip, each one simulating 256 programmable silicon "neurons" for a total of just over a million neurons. In turn, each neuron has 256 programmable "synapses" which convey the signals between them. Hence, the total number of programmable synapses is just over 268 million.
Eric Ryu, vice president at the Samsung Advanced Institute of Technology, explained that the chip's performance is based on efficiency, not higher technological grunt, as reported by Cnet.
"There is a huge gap between biology and modern silicon technology," said Ryu, explaining that TrueNorth consumes only around 300 milliwatts of power, around a tenth that of a mobile phone processor.
In terms of basic building blocks, its transistor count is 5.4 billion. Since memory, computation, and communication are handled in each of the 4096 neurosynaptic cores, TrueNorth circumvents the von-Neumann-architecture bottlenecks and is very energy-efficient, consuming 70 milliwatts, about 1/10,000th the power density of conventional microprocessors.Together they act like the brain's neurons, sending short messages to one another to process data.
Source: techstory
Intel Unveils A Ready-to-fly Drone, The Aero, To Win Over Developers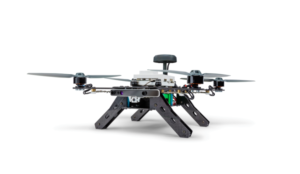 At the Intel Developer Forum on Tuesday, Intel unveiled a new, hardware product — a ready-to-fly drone; specifically, a quadcopter, aimed at software developers rather than casual hobbyists or commercial drone operators.
Intel's drone is a fully assembled unit that runs on Intel's Aero Compute Board with a Linux operating system, RealSense for vision and comes with Santa Monica startup AirMap's software development kit pre-loaded. AirMap, generally, helps drone users fly only where it's safe and legal to do so.
Other chip makers, like NVIDIA, Ambarella and Qualcomm, have been vying to gain market share in the burgeoning, if not yet clearly regulated, domestic and international drones market.
But they've done so by selling their microprocessors to other hardware manufacturers, including companies that make UAVs or cameras and other systems that are integrated into them to enhance functionality, usually around filming and aerial data capture.
Ambarella has supplied chips in the built-in cameras on DJI's drones, and for GoPro cameras that can be mounted onto 3D Robotics drones, for example. And Qualcomm's Snapdragon Flight platform and 4k cameras have been used in drones like the Tencent-Zerotech model called YING that sends data from mid-flight to Tencent's social media platforms QQ and Wenxing.
Intel is also an equity investor in drone tech startups, including: Yuneec, which makes drones that automatically avoid obstacles even in tight spaces; Airware, developers of an operating system for commercial drones; and PrecisionHawk, makers of a fixed-wing drone and software for agricultural and other commercial drones.
Intel also acquired Ascending Technologies, a German autopilot tech company, in January of this year.
The inclusion of AirMap's software development kit in Intel's Aero Ready-to-Fly quadcopters is a boon for the startup, which only launched this week at a closed conference for developers in Santa Monica, California.
AirMap was already a partner of leading drone makers DJI, as well as 3D Robotics and Aeryon Labs. AirMap also makes data accessible in real time to other stakeholders like airports and regulators who need to know how and where drones are operating.
The Aero Ready-to-Fly drone will be available to purchase by the end of this year, but Intel did not announce a firm on-sale date or price.
Source: techtimes
Google Launches a Video Calling App 'Duo'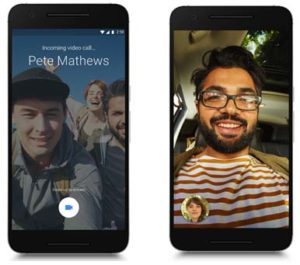 Google today announced the launch of its video calling app Google Duo, a video calling app available for Android and iOS. It takes the complexity out of video calling, so that you can be together in the moment wherever you are.
For this you don't need to open a separate account, all you need is your phone number and you'll be able to reach people in your phone's contacts list across device types and platforms. So you can sign up and start calling in just a few taps. From there, you can instantly begin a video call with a single tap. The roll out of Duo for Android and iOS starts today, and it will be live worldwide in the next few days.
The unique feature called 'Knock Knock' in DUO is designed to be fun and inviting. It allows people to see live video of the caller before they answer, giving you a sense of what they're up to and why they want to chat. Knock Knock makes video calling more spontaneous and welcoming, helping users connect with the person even before they even pick up.
Duo has been built to be fast and reliable, so that video calls connect quickly and work well even on slower networks. Call quality adjusts to changing network conditions to keep you connected when bandwidth is limited, it will gracefully reduce the resolution to keep the call going smoothly. For video calls on the go, Duo will switch between Wi-Fi and cellular data automatically without dropping your call.
Duo has been built with an emphasis on privacy and security. The calls are end-to-end encrypted.
Source: techstory
Pizza Hut Delivers The World's First Playable DJ Pizza Box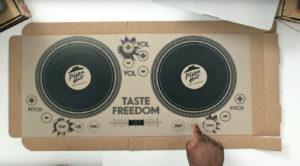 The major brands won't admit it, but it's pretty hard to innovate in the pizza-making industry. Stuffed crust and sausage-ringed pizza are now well established, so companies like Domino's and Pizza Hut are turning to clever marketing gimmicks to ensure sales keep ticking over. One such stunt is today's launch of the "world's first playable DJ pizza box" from Pizza Hut, which is a standard cardboard container rigged up with touch-sensitive decks, a mixer and other controllable buttons.
Created by printed electronics expert Novalia, the battery-powered box connects to your computer or smartphone via Bluetooth and is compatible with DJ software like Serato DJ. As Rinse FM's DJ Vectra demonstrates in the video embedded below, you can scratch, rewind, control pitch and crossfade.
If the promise of a grease-covered slipmat has you all excited, Pizza Hut says it will give a small number of them away. However, they will be limited to just five of Pizza Hut's 350 UK restaurants. To find out where they are available, make sure to keep an eye on the company's official UK Twitter feed.
Source: engadget