A windows-based DVD ripping program, designed to copy and transcode DVDs, files or disc images from a DVD, developed by Digiarty Software Inc is called WinX DVD Ripper Platinum. It is many more functionalities such as removing DVD copy protection along with the ability to convert the data into standard audio/video formats.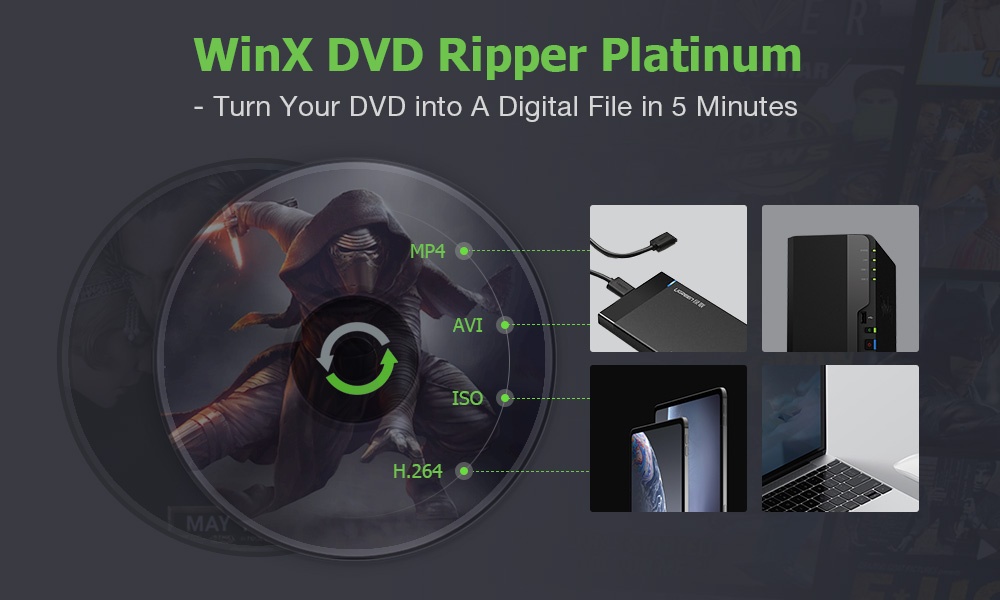 Let's take a look at the features that make WinX DVD Ripper Platinum the best among other "DVD to digital" service providers.
1. DVD to MP4/H.264/HEVC Conversion
Rip a full DVD in 5 minutes – An essential feature is that this platinum program lets you digitize a DVD in its rapid pace. You will be astonished to know that WinX DVD Ripper Platinum allows you to convert 2 hours long DVD to video within just 5 minutes by taking advantage of the Level-3 Hardware Acceleration tech.
.
Plentiful Profile Library – It gives you access to more than 200 video audio codecs/formats and media devices. WinX DVD Ripper Platinum has an Extravagant profile library that is equipped for many facilities. Besides converting DVD to MP4, MP4, H.264, HEVC, AVI, HEVC, MPEG, MOV, WinX also enables its users to rip DVD to videos that compatible with their media devices such as iPhone, iPad, Android, computer, TV, PSP. Some of the prominent ones are NAS streaming, file compression, and SNS sharing.
2. DVD to MPEG2/ISO
DVD to ISO – Now, with the WinX DVD Ripper Platinum, convert your DVD files into ISO without the fear of altered and destroyed data because this program has a unique ISO image output. This allows the user to create an accurate digital copy that is uncompressed and has the entire audio and video quality intact, just like the original.

Moreover, you will also be allowed to keep the original structure, subtitles, video/audio tracks and chapters similar to the original content. All this will be done without affecting the quality of the data. It must be noted, that you can create and burn this ripped file into another optical disc or use it as a virtual DVD drive.
.
DVD to MPEG2: WinX enables you to create a DVD copy from the main chief title to just one MPEG2. This is also done with the promise of no reduction in quality.
3.     An All-inclusive DVD Ripper
The advanced feature of WinX DVD Ripper allows it to work and support all types of discs irrespective of whether they are old or new, movies or homemade DVDs. From ISO image file, Discs like DVD+/-R, DVD+/-RW, to VIDEO_TS folder, in NTSC or PAL region standard, or ISO 9660 or UDF file system standard, all of them are available in the WinX DVD Ripper.
.
Editing – It is also essential to understand that it is the versatility of this program that has made it the popular DVD ripper WinX DVD Ripper allows you to edit the content freely without any restriction. This includes features such as crop, merge videos, trim, attaching subtitles, or selecting audio tracks. Apart from this, you are also given full control over audio-video formats, sample rates, resolutions, and qualities. This provides the user with a much firmer control over the content they want to create as this freedom allows them to let their creativity flow without any restriction.

Apart from these key features, you must also know that due to the enhancement in the CPU and GPU acceleration along with its advanced video processing technology, no-reduction in quality and the rapid speed, WinX DVD Ripper Platinum has established itself as the best and fastest DVD rip software of 2019.
Here is a guide video which will help you to understand How to Rip DVD with WinX DVD Ripper Platinum –
As by now, you know how useful, effective and practical this software is. Still, if you have some doubts over the adaptability and usage, it would be smart to download and try WinX DVD Ripper Platinum 7-Day full version as it will give you a chance to experience how the application works for you. This will not just give you an opportunity to understand the software but also give you a discount on the full version of the software.
So, what are you waiting for? Go ahead and give it a try and let us know in the comments about how it worked for you.
---