Elon Musk's social media site, formerly known as Twitter, underwent a significant rebranding in July and became known as 'X.' This was an unexpected development. The company's attempt to abandon its old identity and transition to a new social networking era was greeted with a mix of anticipation and cynicism. However, this risky rebranding choice has had unintended implications that have affected the platform's acceptance among users and general success.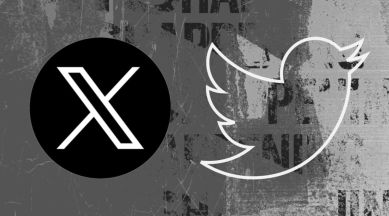 Credits: Indian Express
From "Blazing Your Glory" to "Formerly Twitter"
The slogan of the platform in the App Store was one of the first obvious modifications following Twitter's metamorphosis into 'X'. Its fascinating tagline at first, "Blazing your glory," did little to make the platform's new identity clear. But in an effort to get back to its roots, "X" has since replaced it with the far shorter and more straightforward tagline, "Formerly Twitter." This change in message represents an effort to bring users' attention to the platform's colorful heritage and promising future.
Challenges and Confusion
Users who had become accustomed to the former name and recognizable blue bird logo were confused and angry when Twitter changed its name to 'X'. Aside from causing abrupt changes, these issues also resulted in broken links and domain errors. Users had a difficult time adjusting to the new identity, demonstrating that Twitter's rebranding was not as seamless as hoped.
Impact on Popularity and Downloads
The impact of Twitter's rebranding was most noticeable in terms of user engagement and App Store downloads. Twitter was a major role in the social media industry before the transition. The platform dropped more than 30 spots in the "Top Downloaded" category on the App Store as a result of the rebranding, though, significantly hurting its reputation. Its current position behind tenacious rivals like TikTok and WhatsApp suggests a decline in its user base and market share.
The Persistence of User Perception
Despite the rebranding initiatives, a sizable portion of users still refer to the platform as "Twitter" and do searches in that manner. This consistent user view shows that the platform's core user base has not fully embraced the name change. Despite a significant rebranding initiative, users' emotional attachment to the Twitter brand seems to be persisting.
Companies Involved
Elon Musk's ambitious move to rebrand Twitter into 'X' not only impacted the social media landscape but also involved multiple stakeholders. Elon Musk, the CEO of SpaceX and Tesla, has a significant influence on 'X' as its owner and driving force behind the rebranding decision. Additionally, the App Store, operated by Apple Inc., played a pivotal role in reflecting the platform's evolving identity to users.
Possible Impact on Elon Musk's Platform
The rebranding of Twitter to 'X' was undertaken with the aim of transforming the platform into something entirely new and distancing it from its past. However, the unexpected challenges and negative consequences have raised questions about the move's long-term impact on Elon Musk's platform.
User Engagement: The decline in popularity and downloads indicates that 'X' may struggle to regain the level of user engagement and influence that Twitter once enjoyed. Users' emotional attachment to the Twitter brand may continue to hinder the platform's growth under its new identity.
Competitive Landscape: Falling behind competitors like TikTok and WhatsApp in the "Top Downloaded" category is a significant concern. 'X' may face an uphill battle in competing with these well-established and rapidly growing platforms.
Technical Challenges: The technical issues that arose during the rebranding process, such as broken links and domain errors, must be swiftly resolved to ensure a seamless user experience. Persistent technical problems could further erode user trust.
Branding Strategy: The decision to revert to a tagline that acknowledges the platform's Twitter origins suggests a possible shift in branding strategy. 'X' may choose to leverage the legacy of Twitter to attract users who were initially hesitant about the rebranding.
Adaptation Period: Successful rebranding often requires a period of adaptation for both the company and its user base. Elon Musk's platform may need to invest in marketing and communication efforts to ensure that users fully understand and embrace the new identity.