In the year 2020, eRetail sales accounted for 14.1% of the total retail sales worldwide. Despite the uncertainty in the economies, the ecommerce sector is growing at a steady rate. The eRetail sales are going to see an upsurge and will reach 22% in 2023. 
The huge surge in ecommerce indicates the blurring of lines between the physical and digital world. Technology and changing consumer habits are one of the biggest reasons for the growth in the ecommerce sector. Consumers are becoming more and more accustomed to shopping online and numerous industries have understood the importance of digital and invested in it to make their business relevant.
Now that we know that the ecommerce industry has high potential, launching an online marketplace is a viable option. While it may seem like a simple task, launching an ecommerce multi-vendor website/app with features to suit every user's needs is a gruesome task. There are many options, either you know how to code, or you would want to hire developers. But if you're one of those who do not understand coding or technology behind a website, then choosing a readymade solution like Yo!Kart is the best for you. 
Let us go ahead and learn about Yo!Kart, a tailor-made marketplace software that is highly scalable and comes with the right set of features.
Why Choose Yo!Kart to launch a Scalable ecommerce marketplace?
Once an entrepreneur has decided that they want to hop onto the bandwagon of the ecommerce industry. There are several decisions that they need to take before launching an ecommerce marketplace like:
Finding a niche or sector which is popular

Selecting the perfect demographic according to your product offerings.

Checking the competitors dealing in the same area

Understanding the pain points and establishing the USP of your business

Finding a ready-made ecommerce platform for your business
Manish Bhalla, the founder of FATbit Technologies, understood the dilemmas and to make the digital journey easy, Yo!Kart  was launched in the year 2015. Yo!Kart is a standalone ecommerce platform to build and launch multi-vendor marketplaces. The platform has gained recognition on major publications like Forbes, Entrepreneur India, Business Reporter, and The Telegraph. Yo!Kart offers features and functionalities that allow start-ups, SMBs, and large enterprises to launch their business successfully.
Yo!Kart has powered 1000+ ecommerce marketplace all across the globe ranging from fashion, liquor, jewelry, grocery, rental, and many more. They have developed a b2b marketplace for UNI Diamonds and for the world-largest brewery brand.
What Makes Yo!Kart Stand out?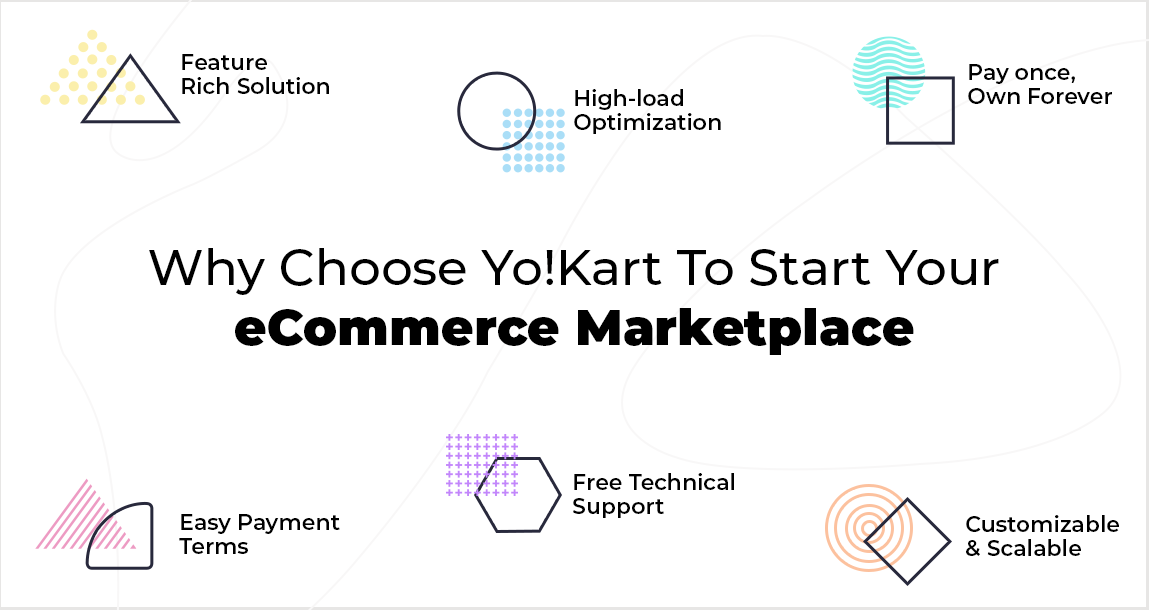 Technology plays a huge role in deciding the fate of your business. To launch an online marketplace, you need to choose the right online marketplace software. 
Few names that come to mind when thinking of launching an ecommerce website are Magento, Shopify or Wix. The problem is that they can readily launch your ecommerce store (Single-vendor) but to set up an online marketplace, you will have to use plugins or extensions. It comes forth as trouble, especially for laymen who have small budgets and a simple business idea to launch a small scale business. Yo!Kart solves these problems and pain points of entrepreneurs as it is an inherently multi-vendor marketplace solution and easy on the pocket packages.
Customizable 
Even if you plan to launch a marketplace like Amazon, your business requirements will depend on the demographics and target audience where you are launching. You need something to create a unique identity around your business, thus setting you apart from other businesses.
Yo!Kart has inbuilt features to support the business requirements of Startups, SMBs, and Enterprises. For businesses that need additional features to make their online marketplaces unique, Yo!Kart can be customized up to any extent. The solution is completely customizable and comes with source code that allows business owners to make back-end & front-end development changes. 
Pricing
When you are new to the world of business, there is limited money or you want to invest a limited amount to build a business. When starting an online marketplace, one major area where your business invests is the technical aspect. The pricing should be such that it does not seem heavy on the pocket for startups and larger enterprises can pay extra to get more functionalities and flexibility.
The pricing of Yo!Kart has been carefully decided to accommodate different sizes of business. Yo!Kart packages start from $999 and go up to $6999, depending on the amount of customization of design. Each package comes with lifetime license, source code, and 1-year free technical support. The platform also offers flexible payment terms allowing the entrepreneur to pay in milestones. 
Marketing Features
Marketing is the key to success in both the offline and online world. The platform through which the multi-vendor website is launched should include features to support the marketing needs of a business. 
Yo!Kart has been developed with insight from marketing experts to launch a profitable business.  Features like affiliate module, blog integration, share and earn, PPC module gives your marketplace an extra boost. Also, to attract buyers on the website, it comes with discount coupons, share and earn, push notifications, abandoned cart recovery, and many more features. These marketing features help you get the maximum targeted audience on your website, thus increasing the profits. 
Scalability
When an online marketplace is launched, entrepreneurs need to consider the growth in traffic and products volume. They need to plan way ahead of the time to make sure that the website/app is performance-optimized when the business grows.
Yo!Kart is a future-ready ecommerce marketplace platform as it has been optimized for performance. The platform has been rigorously tested and it can now support 1 million products and 200 concurrent users without affecting the load time. It also has features like multi-lingual and multi-currency which let the business expand to the global market. 
Future Roadmap of Yo!Kart
Ever since its inception, Yo!Kart has seen immense growth. It has been driven by future-oriented technologies making it a compelling product. When we talk about what's next in store for Yo!Kart, Manish Bhalla just has one word in mind: "Community".
"Strengthening startups ecosystem by bringing technology into the hands of future startups and small, medium-sized businesses at a very affordable cost has been the ultimate goal for us till now. Now that we have become one of the leaders in the category for offering value and making a difference to various startup journeys globally, we plan on expanding to a new direction now. Recently Yo!Kart launched its store solution – Tribe, which will help startups to start their digital journey in ecommerce for Free." says Manish Bhalla.
For offline businesses or startups who want to start their own business, Tribe is a one-stop ecommerce solution. The solution will be free of cost, and there are no additional transaction fees or commission. 
Yo!Kart experts also keep a close tab on the ecommerce industry and enhance features and functionality according to consumer behavior, market trends, and seller policies.
Yo!Kart is the ultimate multi vendor ecommerce solution for your business, Robust features backed with an agile team reduces the go to market time. Interested in the platform, you can book a free demo now.