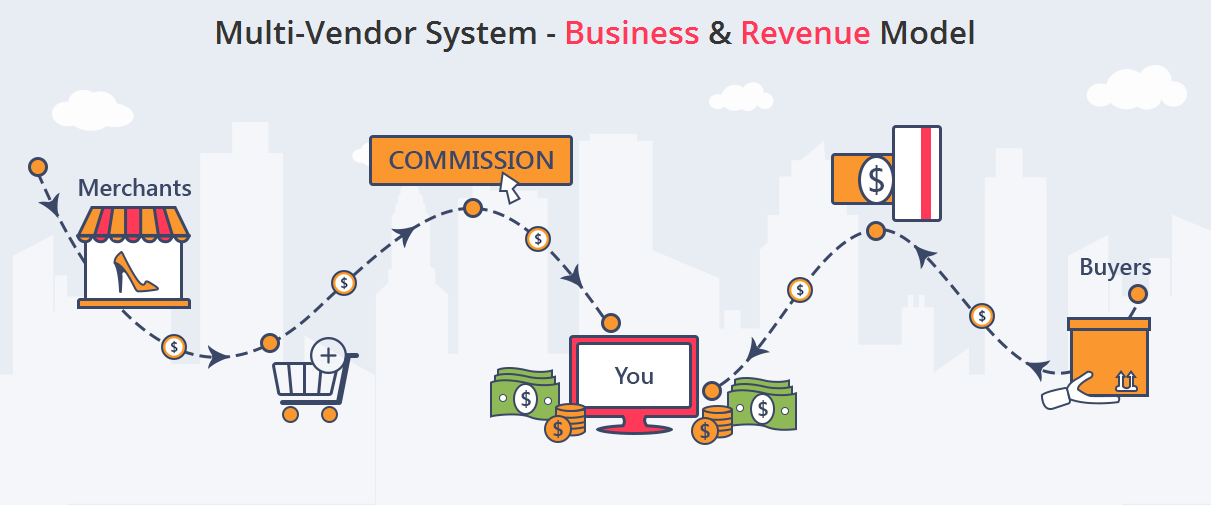 There was a time when merchants used to come aboard, travel vast expanse of oceans to trade their goods in local marketplaces. Fast forward a few centuries, and those marketplaces have just gone virtual. Nowadays, when we talk about shopping, the first thing that comes to the mind is e-commerce. This is how the internet has changed our lives. You do not have to travel thousands of miles to sell your goods or buy a particular item. With just a click of a button, you can buy anything across the globe. Welcome to the world of ecommerce marketplaces. 
The digital era has led to a number of online multivendor e-commerce platforms, which span across numerous industries. Moreover, it has also become highly feasible to start your own e-commerce company by just choosing a compatible and advanced ecommerce platform. However, with increasing competition you have to be picky and not rely on a featureless clones for creating a robust multivendor platform.
Yo!Kart outshines the rest of the pack of an e-commerce platform for creating multivendor stores since the platform is specially designed for startups who want to avail an array of benefits at competitive pricing. It is more feasible as an e-commerce platform due to its long list of advanced features, which can be further customized as per the requirements of the clients. However, before going deeper into the feature list of Yo!Kart, or the name behind it, let us first look at the industry demographics.
Industry Insights about Ecommerce Sector
Less than one-tenth of U.S. retail market is online right now, and e-commerce is set to triple to over a trillion dollars in the next decade. The same story is visible in India where ecommerce is driving the startup bandwagon. With such a huge market, it will not be a winner-takes-all situation. There is and will always be more than enough room for multiple players. This is why every now and then a new ecommerce marketplace emerges, leveraging upon the immense growth potential of this sector.
Valuations of ecommerce marketplaces have been on the rise year after year. Every now and then, an ecommerce marketplace joins the coveted billion-dollar club. B2C e-commerce sales in India amounted to 12.12 billion US dollars in 2012 and are expected to grow to 30.31 billion US dollars by 2016. The Indian ecommerce market, which is pegged at $16 billion, is slated to grow 300% in the next four years. What is interesting is the fact that in 2020, India's ecommerce market would be similar to China's in 2012. This clearly highlights the vast opportunities waiting to be explored in terms of ecommerce.
How Yo!Kart Was Envisioned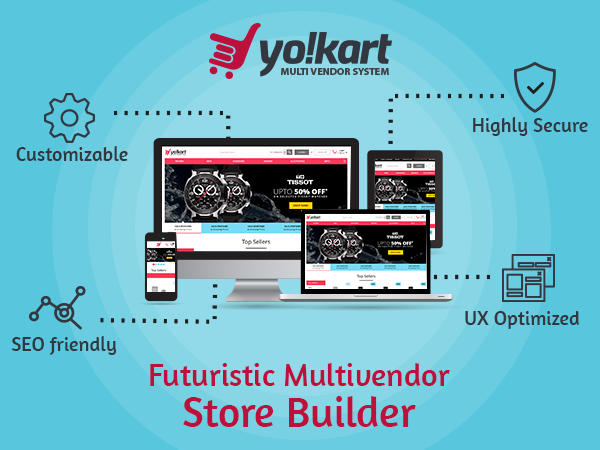 With such a vast opportunity in front of the entrepreneur in the ecommerce sector, one just wonders what is holding them back from jumping on the ecommerce bandwagon. Well, several issues have plagued the ecommerce industry, which include:
Finding a niche or creating a unique identity
Scaling up without wasting valuable resources
Cost effective and ready to launch system for faster adoption
Customization and technical support
In order to counter these challenges and help entrepreneurs, Manish Bhalla launched Yo!Kart. Being a veteran in the web designing and development industry, he has helped several startups create an identity for themselves. Yo!Kart was one such product aimed at streamlining the process of launching a multivendor ecommerce marketplace. The startup friendly ecommerce platform was built to be high on features and low on cost.
Why is Yo!Kart Special?
If you start searching for ecommerce platforms to build stores like eBay, Amazon or any multi-seller portal for that matter, the biggest hurdle you will come across is the lack of dedicated multi-vendor solutions. There are not enough choices to create multi-vendor websites and the top names that look bankable have several price sets involving varied offerings that are either complicated to understand or have limited features in most of the low packages. Shopify, Magento, CS-Cart, etc. are few names to reckon for creating ecommerce store but you will either need to buy additional plugin for having multi-vendor functionality on your platform or pay certain amount monthly for readymade solution, which will eventually be heavier on the budget side as the annual cost will go higher.
It comes forth as a trouble, especially for the laymen who have small budget and a simple business idea to launch a small scale business. Yo!Kart solves this and all such pain points with its well designed and uncomplicated packages. Here you know more about it:
Pricing
The pricing of Yo!Kart is pitch perfect and with one year of free technical assistance, it becomes an enticing option. At just $250 (for 1 year), you can get a ready to launch multivendor store with web hosting, which comes under startup plan.  It's best for people wanting to experiment with multivendor ecommerce business model because at such a low cost they get a site fully equipped with a default design and all necessary features. If the idea doesn't yield expected results they lose just $250, if it does, they can upgrade the plan for only $999 to buy owned license and can have their website on their own server in no time.
Customizability
Other than pricing, customizability is a big issue for ecommerce stores as in the long term everyone needs to make hundreds of updates, which again increase the cost. Yo!Kart's premium package gives you completely customized website at $5,999. However, the "GoQuick" package i.e. for $999, too allows custom updates for additional cost, which proves valuable in terms of cost as well as quality in case one has very less custom requirements. If the requirements are high, "Go custom" packages is the best option.
Marketing Features
Marketing is a big factor for ecommerce business success. If a new ecommerce website lacks essential features that help performance analysis, reporting and search engine presence, there are fair chances of it to lag behind existing brands too. To let new businesses face the competition powerfully, Yo!Kart comes with impressive features that include precise and instant reporting (product, sales, date, user, commission, store, and affiliate wise), discount coupon management, open Graph, Twitter cards, structured data, SEO friendly URLs, and Google analytics site tracker code.
The Yo!Kart Journey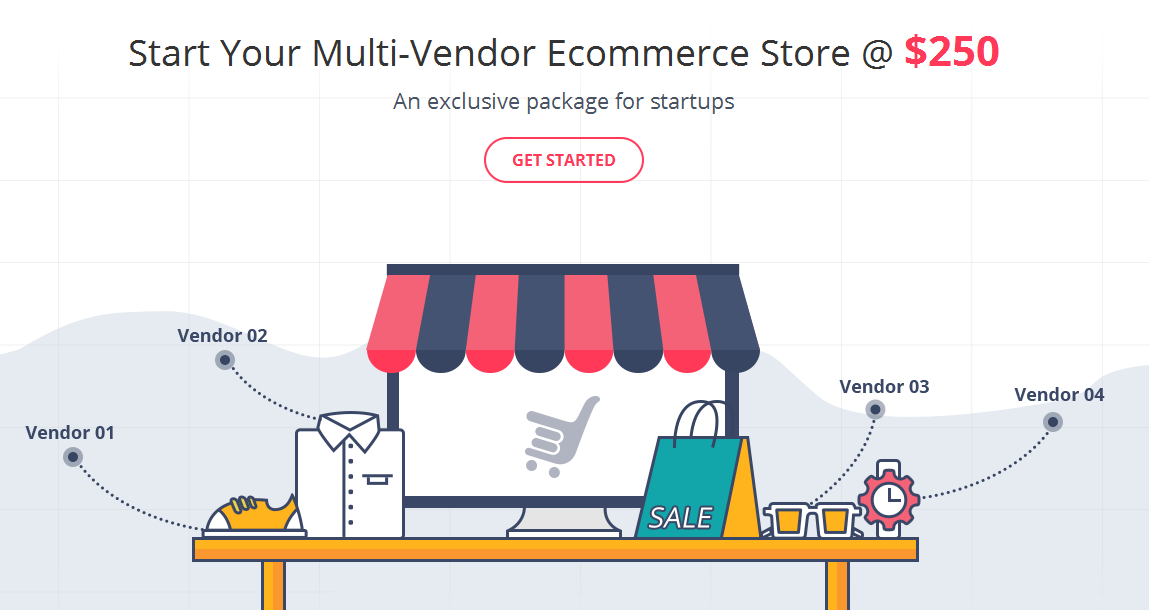 If we say that Yo!Kart has managed to meet the expectations of the entrepreneurs and also the creators behind it, then it will be an understatement. Ever since its inception, it has created a huge buzz in the ecommerce industry. It has managed to fill the void often faced by SMEs as well as early stage startups.
Acknowledged by numerous startups, Yo!Kart has redefined the way multivendor ecommerce marketplaces are launched. Powered with features like three layer security, robust report generation, order processing, customer groups, intuitive interface, customizable design, and SEO rich tools, Yo!Kart surpasses the requirements of any entrepreneur looking to launch an ecommerce marketplace.
This versatility and robustness have been the core reasons which led to Yo!Kart being awarded the Product of the Year, by TiECON, Chandigarh. Co-hosted by STPI (Software Technology Park of India), and attended by distinguished speakers, startup founders, CEOs, delegates and seasoned professionals. The much coveted award was bagged majorly for three reasons, solving commercial issues, offering technical reliability, and amazing post-sales support.
"It feels great to see Yo!Kart ascending at a striking speed though it was envisaged based on a number of analysis done by our team We studied various business models for a couple of years and noticed the dominance of businesses acting as marketplace/aggregators in the ecommerce world. Viewing this global trend of eCommerce and mCommerce being ruled by businesses like Uber, Amazon and Taskabbit, developing marketplace-portal for different categories was quite logical to us. Yo!Kart is the first one of them" says Manish Bhalla, the brain behind Yo!Kart
He is of the view that it is not just the product only, but the services associated with it that make Yo!Kart optimal for a startup. What is compelling about Yo!Kart is that it accomplishes the task of empowering ecommerce startups quite meticulously by offering young entrepreneurs the power to focus on their business ideas without spending enough time and money on the technology behind it.
The Future Roadmap
Ever since its inception, Yo!Kart has seen immense growth. It has been driven by future-oriented technologies making it a compelling product. When we talk about what next in store for Yo!Kart, Manish Bhalla just has one word in mind: "Mobility".
"Strengthening startups ecosystem by bringing technology into the hands of future startups and small, medium sized businesses at a very affordable cost has been the ultimate goal for us till now. Now that we have become one of the leaders in the category for offering value and making a difference to various startup journeys globally, we plan on expanding the reach of our product. Recently Yo!Kart was launched on android, opening a new horizon for the company." says Manish Bhalla.
For startups looking into entering ecommerce sector and launch their own Ebay or Etsy, then Yo!Kart is the only product that should be in your checkout cart. It is a robust product, high on features and low on price, clubbed with one year of free technical assistance, a combination that you may not hear every now and then. So do not wait, your ecommerce marketplace idea is just one click away with the help of Yo!Kart.
---
Similar Read:
Storehippo.com – Have Something To Sell & Don't Know Where To Go ?
Comments
comments