The long-awaited revenue-sharing scheme for makers of YouTube Shorts is finally here. Before February 1st, artists will start receiving advertising sharing money from the viewers of their Shorts, the firm is introducing a new Partner Program agreement beginning today.
The new Partner Program terms from YouTube must be approved by creators by July 10th. New "Monetization Modules" are now launched as part of an effort to allow individuals greater control over how they can generate money through YouTube; however, the firm suggests approving all of them to maximise the income ability on the site.
Creators who have at least 1,000 subscribers and more than 10 million views on Shorts in a 90-day period are qualified to apply for such Partner Program, as was previously disclosed. The updated "Shorts Monetization Module" then needs to be approved by them.
YouTube announced the termination of its $100 million artist fund as Shorts revenue sharing goes into effect. The majority of fund participants, meanwhile, are predicted by the firm to generate more money via profit sharing than they did through the fund.
Since music licencing is included, the method YouTube has designed to estimate how much each creator would earn for their Shorts is tricky. The company will run advertising on the Shorts Page when viewers are streaming Shorts on YouTube.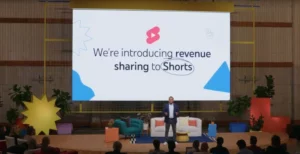 According to YouTube, the earnings from these advertisements will be used to compensate music publishing agencies and creators through a shared pool that the firm will distribute at the close of each month.
The number of soundtracks that creators include in their Shorts would determine how much revenue eventually goes into the creator pool.
All of the profit generated off of a video that a creator posts without any audio will be distributed to the creator pool. On the other hand, when it comes to a Short with just one song, a third of the associated earnings will be used to cover the cost of licencing. Two-thirds will go toward licencing in a short with two soundtracks.
After that is settled, YouTube will decide how it will allocate the creator's money. The revenue will be shared by the firm depending on the creators' percentage of all Shorts views.
Thus, regardless of whether a creator used licenced audio in their Shorts or not, if the clips accounted for 5% of all qualifying Shorts views in the nation for the month of Feb, the creator would receive 5 per cent of the total revenue in the fund.
Following YouTube's 55 per cent income cut, they will earn the other 45 per cent. After all, is said and done, if the creators contributed $1,000 to the Creator Pool one month, they would earn $450.