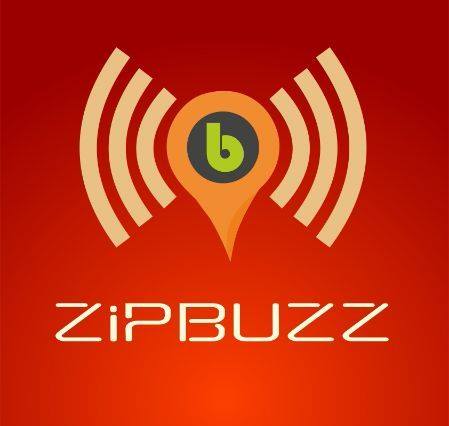 User location is surely gaining more and more importance in the technology world of today. Making relevant information available to the user was always very very important in the tech world and being able to access location information is surely helping technology companies deliver more and more relevant information. The latest app to venture into the location based segment is ZipBuzz.
ZipBuzz was started in 2014 by Sreehari Nair and Nikhil Kambli. "ZipBuzz" stemmed from the idea that we are seldom aware of things that are going around. The thought process with this app is to power users with information when they are in a particular area.
Zipbuzz is an "on the move" app, is  location based and will use the mobile user's current location to throw up news and information with a distance of 5km radius.
Through their research team Zipbuzz found that people would want to share information about an area/restaurant/news etc with others in the area. Therefore, unlike other location based apps which largely list things in a particular area, Zipbuzz is a user generated feed app.ZipBuzz is a two way communication app – so users can post just about anything and everything. For e.g. they can drop in a message saying "if you are travelling through Tardeo in Mumbai, do not miss the Sardar ka pavbhaji." So anyone with the app who is passing that area will get this message on their home screen.

The global figures say that the location based services industry has risen from $2.8billion in 2010 to $10.3billion in 2015. Of the whole, the Asia Pacific region boasts a 25% share. The fact that biggies like Zomato and Quickr have ventured into the location based service should speak volumes about the potential of this industry.
"There have been two main reasons behind starting ZipBuzz. One is lack in availability of information wherever you are about the happenings in that place and secondly most often we all have impromptu plans, which essentially translates to just wasting time in discussing where one should be heading to." says Sreehari Nair, co-founder of Zipbuzz.
Zipbuzz is the creation of Sreehari Nair and Nikhil Kambli. Both have finished their media studies from Khalsa College. After finishing their media studies while Sreehair worked as a journalist with a couple of publications like The Times of India and Indian Express, Nikhil ventured into website development.Back in college days, the duo along with another friend had started a small time BTL promotions venture but since they all came from middle class backgrounds had to shut shop and get on to regular jobs, and since then were contemplating to do something together. When Sreehair bounced the idea of ZipBuzz to Nikhil, he was very excited and thus began the journey of Zipbuzz.
The company is currently focusing on making the app more user friendly, generating more and more user driven content and will be making the app available in a number of cities in time to come. The company's next immediate step is to work in tandem with commercial establishments for offering discounts etc and integrating payments. This might be a big step in the business world where every business is being forced to attract customers via digital channels. And after a number of listing apps for specific services, Zipbuzz might be a refreshing change in the way businesses will attract customers who already in their locality thus reducing the decision making time for customers !
About their entrepreneurial journey, the cofounders have some very interesting thoughts to share ! "Being an entrepreneur is like being the tiger who has tasted blood. You can't stop once you are on that path ! The only way to success is burning the fingers in the midnight oil. What you think will work; will not necessarily be the greatest idea. So you should always get up, dust off and start again."
App can be downloaded from Google Play here :- https://play.google.com/store/apps/details?id=com.zipbuzz.activity&hl=en
Comments
comments