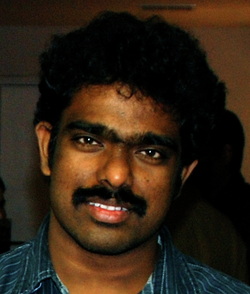 Raju Vegesna is the Chief Evangelist at Zoho and is one of the foremost thought leaders in the SaaS revolution. Raju is one of the key people responsible for developing the strategic direction of the Zoho Suite, focusing on SMB market. Prior to joining Zoho Corp, Raju co-founded a web company serving the educational market. In this interview with Techstory, Raju talks about the IT 2.0 product revolution in India, competing with bigger players and Zoholoics coming to India !
On creating great products in India
The IT 1.0 revolution in India was dominated by the Services Industry and led to formation of world class companies such as Infosys, TCS etc in India. The IT 2.0 revolution in India will be the one of product companies and will see a large number of companies create products in India and sell them all over the world.
Zoho is one of the most well known companies building products out of India. Although it is headquartered in the USA, a large part of operations of Zoho are based out of India.The company always takes a long term view when managing the company and its products.
India has a huge amount of talent available that needs to be tapped into and managed well. Every company in India should think about grooming the talent for the long term. About 15% of employees of Zoho do not have a college degree. Zoho picks up talented kids from schools who cannot afford to go to college and grooms them at Zoho University. The company has been doing this for 9 years now. Taking such an approach has helped Zoho tackle the recruitment challenge and retain employees for the long term. Product managers in Zoho have been with the company for an average of 10 years.
Even when building products and adapting to new technologies, the company takes a long term view.Over a period of time, the company has developed a conviction about which technologies will last in the long run and which will not. It is only those technologies that they find worth investing in, are the ones that the company thinks of when creating or modifying their products. The company has 50+  products across departments and decision regarding each product is taken by the product manager. There are only 2 things that the manager needs to keep in mind when creating a product.
1. Be the best in the category
2. Use the existing frameworks available within the company and do no reinvent the wheel.
On Competing with the bigger players
With the range of products that the company has, Zoho competes with the likes of Microsoft and Google in a number of product categories. For example with their office suite, Zoho competes with Google. Zoho introduced their office suite in 2005 and Google entered this market in 2006. The entry of Google was very beneficial to the market. Big tides pick up all boats. Similarly when a better player enters the market, all similar products end up becoming better. The good thing about building small and mid sized products is that they do not require a large investment. A small company can build these products as nicely as a big company.
The advantage we had was that we had the freedom to make decisions regarding our products. Therefore, when we realize that we cannot make money from office suite immediately, we started giving this product out for free and using it as a marketing tool to get entry into newer customer. Public companies cannot make these decisions since investors will never allow it. The scale of a company therefore can be its strength but it also can be its weakness in the mid sized products industry. As a company, we value freedom more than getting investor money. Not having investor money has given Zoho the freedom to compete with the bigger players in market.
Wheever you find a good market for your product, stick around for a long time. The market will provide you with an opportunity.
About Zoholics India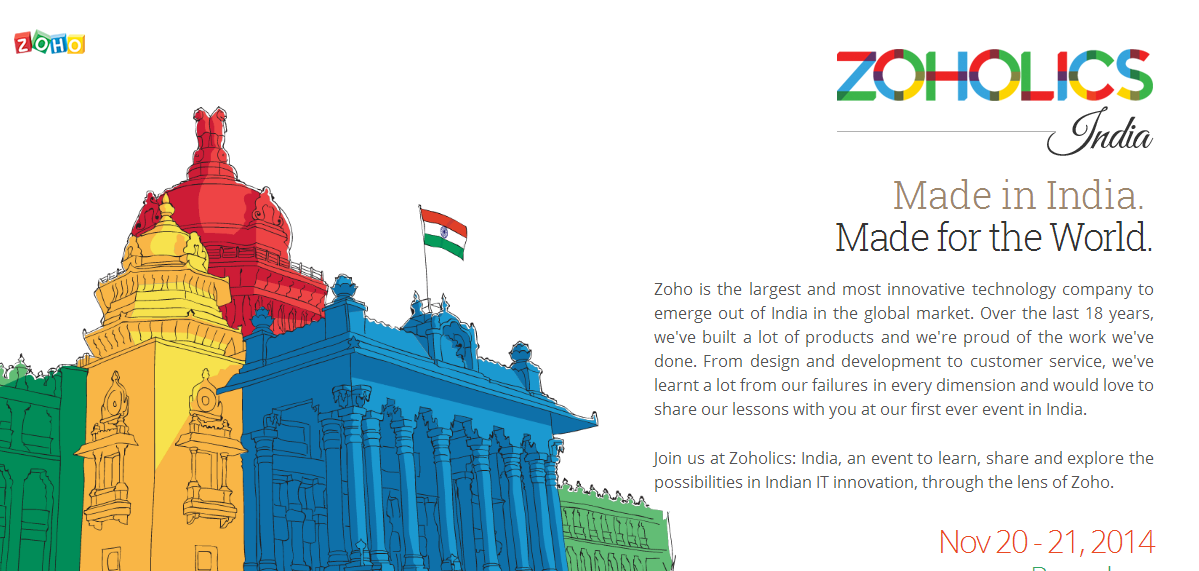 The situation in India is changing each day. India is waking up to the advantages of being a product company. With Zoholics, Zoho wants to launch a platform to share ideas and move the products industry in India forward.
Contributing to the next wave of technology innovation in India, Zoholics: India will be held in Bengaluru on November 20 and 21, 2014.At the event, Zoho will talk about its journey to becoming one of the largest IT product companies based out of India, and address entrepreneurs on creating world-class products, and selling them to a global audience, from India.
The event will be held on 20th and 21st November, 2014 at Ritz Carlton, Bengaluru. The conference agenda has sessions comparing product and services mind-set, engineering products, marketing and selling out of India, running a business on a budget, whether to take VC money or not, and much more, including a keynote by Sridhar Vembu, Founder & CEO of Zoho Corp. Detailed agenda is listed on the event website: www.zoholics.com/india.
Comments
comments