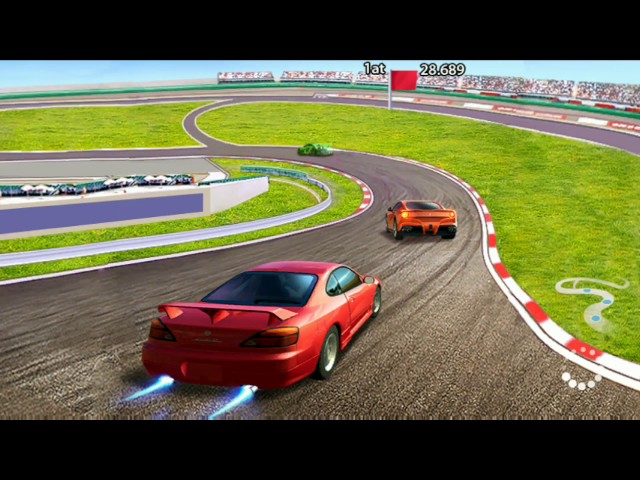 I love car racing games and trying to outmaneuver the competition. I have experience with car games for adults & children alike, and I'm always on the lookout for the next best thing in racing. With that thought in mind, I decided to investigate what was available on the market these days for mobile app racing games.
In the process, I discovered a website called AppGrooves that had a top 10 list of the best 10 car racing games. So, I thought: why not? I'll leave the link to get to the top 10 page down below.
Best 10 Car Racing Games by AppGrooves
As it turns out, I immensely enjoyed sitting behind the wheel of a real race car with a number of the racing games I found there. In fact, I liked a few of them so much that I thought I would share my good luck with you!

City Racing 3D – Rating: 4.6, Downloads: 50M

City Racing has 3D graphics that make you feel like you're a part of a real competition, driving real cars on real tracks and real-time racing with other drivers. You will be able to start with a basic car model and then work your way up to better, more advanced ones as you race.
The game is free, which is great for those who want a fun, budget-friendly way to participate in their favorite style of racing game. Not to mention, it will have you racing around the world's most bustling cities like Tokyo, Paris, Chicago, London, and Cairo, so you can become a world traveler right from home!
I would like to mention that even if you race perfectly, it can be difficult to catch up to the leaders in the game. You've got to be a really rough and tough driver to keep up with the higher ranking racers. However, if you are simply looking for a lighthearted and fun racer game to play offline with friends, I really think you ought to give this one a try.
Pros: Immersive 3D graphics, races in cities around the world, and the ability to work your way up to bigger and better cars.

Cons: It can be challenging to beat the top racers.

Overall: Have a blast racing in different cities around the world with immersive graphics that bring you into the game. Just note that it can be difficult to overtake the top racers.

Hot Wheels: Rating: 4.5, Downloads: 10M

Hot Wheels, familiar to all of us because of the toy cars we played with as kids, is a physics-based racing game where players attempt to complete a race against another opponent on a variety of tracks.
It's everything you love about Hot Wheels brought to life; a true throwback to the past for adults and fun twist for the kids. Steer your car to avoid danger and determine whether you are going to flip, fall off a cliff, or run out of gas – the element of suspense is something that makes this game both unique and incredibly fun.
If you like to select the car you race with, I will say you that you might be a bit frustrated playing these Hot Wheels games at first. You have to advance in the game before new vehicles are unlocked. However, there really is an addictive quality to this game that keeps you coming back for more. So, you'll soon get to the point where you have numerous cars to choose from.
Pros: A variety of Hot Wheels themed tracks for kids and adults alike, reminiscent of the old Hot Wheels toys.

Cons: You start out the game with only one car and have to unlock the rest.

Overall: Kids and adults both will enjoy the various themed tracks with action-packed racing, but only one car can be raced in the beginnng, the others have to be unlocked through gameplay.
Extreme Car Driving Simulator – Rating: 4.4, Downloads: 100M

Extreme Car Driving Simulator seriously lives up to its name, allowing you to drive tricked-out sports cars through the city, to the airport, and even to go off-roading! You're able to paint your car with your favorite colors before taking it to the roads, driving wherever you please.
You can also complete awesome jumps off ramps and try your skills at other stunts to earn additional points and skills, which is so much fun if you're a thrill seeker like me.
While there are lots of fun and awesome things to do around the world of Extreme Car Driving Simulator, if you are looking to race lots of other online drivers, you might want to check out one of the other two options I've provided.
Overall, the game focuses on racing around the track and drifting, but this is something you're doing solo, not competing against other racers! So, instead of worrying about the competition, embrace the freedom to drive and play as you want.
Pros: Customize your sports car so it's interior and exterior are advanced and full of your favorite features, complete trick jumps.

Cons: You don't play against and/or compete with other drivers.

Overall: Customize your car, so it looks the way you want it to and then use it to complete sick tricks. Just note that you will not be competing against other players.
Conclusion
I went through AppGrooves top 10 car racing games list with a fine-toothed comb to find all of the information I could about these games, and I am highly pleased with what I found. These car racing games will provide all the nail-biting, speed demon fantasies you've ever wanted and more – all in the palm of your hand.
In the meantime, whether you love racing cars in real life or prefer to stick to the fictional tracks in games, I hope you find these game apps just as fun and entertaining as I did!
Image Credit: Youtube
Comments
comments