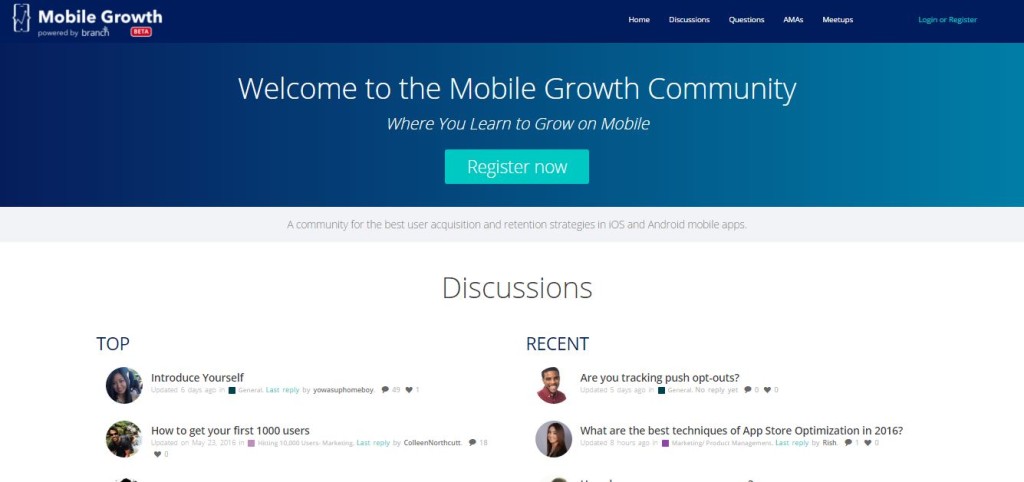 June 1, 2016, PALO ALTO: Deep linking platform for businesses to drive mobile growth with optimal user experiences Branch Metrics, today announced the immediate availability of the Mobile Growth Community. The new online community aims to help professionals interested in mobile growth to communicate and collaborate on a global level to acquire the knowledge and skills critical to achieve growth success on mobile.
With over 15,000 active members and more than 51 Meetup Groups in 47 countries, the company operates one of the largest communities for growth-focused mobile developers and marketers. The new Mobile Growth Community will serve as a platform to bring together this global force, to foster communication and the advancement of mobile growth expertise for all interested professionals, no matter their background or experience level.
"We founded Branch to solve the growth problems we had as app developers, one of which was limited access to a network of experienced mobile professionals," says Mada Seghete, co-founder and CMO at Branch. "That's why we've been dedicated to creating the best Mobile Growth Community from the beginning."
The Mobile Growth Community features a variety of content and resources ranging from Discussions on latest mobile marketing growth trends and best practices, Questions monitored by Branch engineers on technical implementation issues and emerging new tech, and AMAs sourced from world-class industry experts. More features will be introduced based on the evolving needs of the community to ensure the best experience and value for all members.
"We're thrilled to add the online presence to connect everyone around the globe who's been part of the community and help all professionals interested in acquiring mobile growth expertise from a source they can trust," added Seghete. "Together with the Branch Global Ambassador program, we're determined to build the largest mobile- focused community by combining the leading regional forces from around the world with a universal digital platform."
The Mobile Growth Community has attracted hundreds of users during the Beta stage, including growth professionals from leading brands such as LinkedIn and Google. All members will have the opportunity to engage with growth experts at Meetups and online AMAs from the fastest-growing mobile-focused brands like Uber, Pinterest, SoundCloud, Snapdeal and more.
The Mobile Growth Online Community is immediately open for registration for all interested professionals. Join now to learn the best strategies, tactics, and technologies to make your mobile business a success.
About Branch Metrics:
Branch Metrics provides the most complete deep linking technology for brands to create an optimized mobile user experience that drives growth, conversions, and engagement. With Branch, app content becomes searchable, shareable, and easy to integrate into marketing channels like email, SEM, and advertising. Branch is the trusted growth solution for teams like Pinterest, BuzzFeed, and Jet and is the only deep linking platform that supports all existing mobile app platforms and standards.