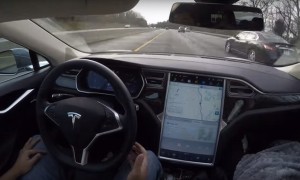 01 July 2016, USA :
The first known death caused by a self-driving car was disclosed by Tesla Motors on Thursday, a development that is sure to cause consumers to second-guess the trust they put in the booming autonomous vehicle industry.
The 7 May accident occurred in Williston, Florida, after the driver, Joshua Brown, 40, of Ohio put his Model S into Tesla's autopilot mode, which is able to control the car during highway driving.
The autopilot sensors on the Model S failed to distinguish a white tractor-trailer crossing the highway against a bright sky which resulted in a fatal accident.
Tesla said in a statement that this was the first known death in over 130 million miles of Autopilot operation. Before Autopilot can be used, drivers have to acknowledge that the system is an "assist feature" that requires both hands on the wheel. Drivers are told they need must be prepared to take over controls, the statement said.
Autopilot checks to make sure a driver's hands are on the wheel, and it gives visual and audible alerts if they aren't. It also will gradually slow the car until the driver responds, the statement said.
The system allows the Model S to steer itself within a lane, change lanes and speed up or slow down based on surrounding traffic or the driver's set speed. It can automatically apply brakes and slow the vehicle. Tesla said Autopilot "results in a statistically significant improvement in safety."
Also read- 
Elon Musk – Real Life 'Iron Man'
Tesla to offer hands-free steering on Model S