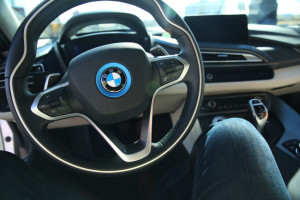 01 July 2016, USA :
BMW, Intel and Israel's Mobileye NV are teaming up to develop self-driving vehicles, the latest alliance among auto makers and technology companies working to build and commercialize driverless cars.
BMW plans to integrate Intel and Mobileye technologies into BMW's "iNext" platform, the company's target vehicle for fully automated cars in 2021.
The three companies brought their top execs to Münich, Germany, for the announcement, with the CEO of Intel, Brian Krzanich, the Chairman of Mobileye, Amnon Shashua, and the Chairman of BMW, Harald Krüger, for the announcement.
BMW stated this morning that it will "bring solutions for highly and fully automated driving into series production" by 2021, just five years from now. The plan is a partnership with Intel, which will supply processing power, and Mobileye, the Israeli supplier of driver assistance systems and sensors that supplies a large percentage of the auto industry.
The German auto giant has been working on self-driving cars for some time — as have many automakers — and had previously said that it would launch an electric, autonomous flagship vehicle in 2021. The announcements have all come as a part of BMW's 100th anniversary celebrations, which have seen the launch of three concept cars from BMW that prominently feature self-driving tech. So far, though, no fully self-driving car is available to consumers.
"Fully" is the key word in BMW's news today. Production vehicles today already offer various forms of partial automation like dynamic cruise control and lane keep, and more advanced systems like Tesla's Autopilot and GM's Super Cruise are either in production or near it. But a fully self-driving car — something akin to the Google car — is an entirely different level of capability and complexity where you simply summon your vehicle, get in, and let it take you wherever you want to go without needing to intervene or pay attention.
The technology for that kind of fully self-driving car is advancing rapidly, but regulatory challenges still loom large. The US Department of Transportation is in the process of drafting guidelines that would aim to stop individual state laws on autonomous driving from getting out of sync, and there are still many questions to answer about who's liable in a crash when a car is in control of itself. BMW's news comes just hours after it was revealed that a Tesla crashed into the side of a truck's trailer in early May while in Autopilot mode, killing the driver.
Intel is the world's biggest computer chipmaker and has been seeking to break into the market for automotive chips where rivals NXP, Renesas, Infineon and STMicroelectronics have long held sway.
Mobileye is the top supplier of camera-based sensor systems used in driver assistance systems in the latest generation of vehicles. These systems are used for changing lanes and to detect other cars or pedestrians but are expected to evolve to include mapping and automated decision-making features.
Also Read- 
Google's Driverless Car – How It Drives Meticulously
Uber Unveils It's Self Drive Car