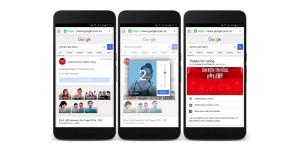 04 April 2016, USA : If you're a die hard fan of reality shows, your life has been made much easier by Google. A new Google search update has made it possible for viewers of reality talent shows to vote for their favorite contestants from search results.
The company is rolling out the update in Asia across desktop and mobile. The fans will soon be allowed to cast their votes for their preferred contestants on shows such as "The X Factor" and Asian version of the shows like "Idols" and "Got Talent." Also, the company will reportedly work jointly with the existing voting mechanism like texting or place votes through a mobile app.
It seems from the supplied images that you'll have to look up a show from Google search and then tap on your favorite contestants among those who are currently in the running to vote for them.
TV shows like "The X Factor Indonesia" successfully trialed this voting mechanism last year and "Vietnam's Got Talent" has already signed up for it. FremantleMedia, the producer of these famous shows is planning to expand these shows to include users in India, Indonesia, and Thailand soon.
The new voting mechanism will work alongside traditional methods like texting and placing votes via second-screen companion apps for individual shows – but it seems like it'll be the most easily accessible of the lot.
Source & Image : thenextweb