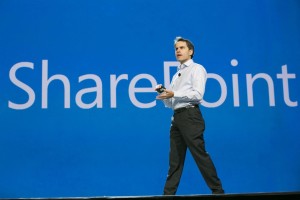 04 May 2016, USA :
Microsoft will be announcing tomorrow several big updates to its SharePoint team collaboration and content management software, which will be arriving later in 2016.
The company is finally revealing new mobile apps on the way for Android, iOS, and Windows, as well as major integrations with Microsoft's OneDrive cloud file syncing and sharing service and the recently unveiled Flow application integration service. Security updates and a new client-side development framework are coming, too.
With the launch of this app, SharePoint's 190 million users will finally join the rest of Microsoft Office suite in the so-called "cloud first, mobile first" vision laid out by Microsoft CEO Satya Nadella.
SharePoint is Microsoft's team collaboration product, and does a lot of different things – you can share information on it, use it for a corporate intranet, search company documents stored in a bunch of different places, and much more.
It's the kind of multi-purpose enterprise product that startups like Box love to pick on, but it's a huge product for Microsoft, generating more than $3 billion a year in revenues for the company. The demand for SharePoint is still there due to which SharePoint Migration is preferred by small businesses for IT excellence.
In addition to announcing these apps, Microsoft is officially releasing the latest version, SharePoint Server 2016.
The goal is to reduce the "idle chatter" that overwhelms some corporate collaboration services, said Jeff Teper, corporate vice president of OneDrive & SharePoint at Microsoft.
"We've solved the forest-through-the-trees problem that Slack doesn't solve," Mr. Teper said in an interview at Microsoft's headquarters.