6 April 2016, USA :
Samsung has been reportedly granted a patent in South Korea for contact lenses which will offer a display that can projects images into a wearer's eyes and will also include a built-in camera along with sensors that will be controlled by simply, blinking.
We've seen this kind of lenses in Mission Impossible Ghost protocol but soon this will turn into reality.
A report by SamMobile points out that the company's primary reason for the development of smart contact lenses is the limited image quality that can be achieved with smart glasses. Lenses can provide a more natural way to provide augmented reality than smart glasses. Still, we can imagine the privacy debate that will reach new heights when cameras are essentially hidden in contact lenses.
'The analysis component of the contact lens can process the raw image data of the camera to determine processed image data indicating that the blind person is approaching intersection with a crosswalk and establish that there is a car approaching the intersection.'
Like Samsung, the lens also has wireless capabilities allowing it to link to a smartphone, which can be used to process data and give the user audio commands.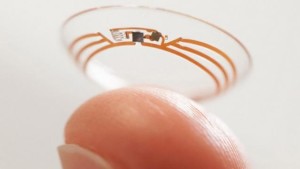 Google also has two patents for similar smart contact lens designs.
Image : techworm.net