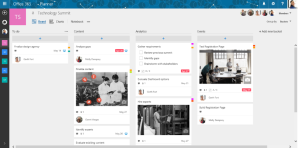 07 June 2016, USA :
Microsoft has just released a new app that can be of assistance to those professionals who work in teams or are a part of one large team. Planner is a project management application that allows users to organize the teams on a dashboard, easily track progress, assign tasks, chat with members, and do much more.
However, Planner brings something else to the table when paired with the powerful and capable Office 365 suite, as it seamlessly integrates with all of Microsoft's product offerings such as OneNote, OneDrive and Outlook to name a few. While Planner is hardly expected to be ground-breaking by any measure, it is expected to cater to the needs of existing Office customers as well as people who prefer a simpler, integrated version of existing solutions.
So to round up, Office 365 is a set of Microsoft's desktop word processing, email, spreadsheet, and other software applications delivered on a subscription basis. It differs from the company's traditional software sales model in which customers run full versions of the software on their own PCs and servers.
Existing Office users needn't do anything to access the app, as the tile should appear in the Office 365 launcher as soon as it becomes available.
Check out the video below-
Also Read : Microsoft Cuts Off 1,850 Employees
Read More : Facebook, Twitter, YouTube and Microsoft to Follow Hate Speech Code