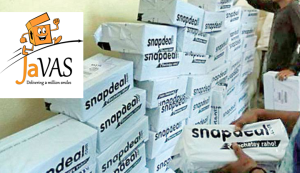 12 August 2016, India :
As per yesterday's reports, courier service provider Pigeon Express was in advanced talks to acquire e-commerce focused logistics service provider GoJavas in a cash and stock deal, said two people aware of the development.
But latest development stats that online retailer Snapdeal, which owns a sizeable stake in logistics provider GoJavas, does not plan to sell its holding even as the promoters of the Gurgaon-based company aggressively scout for buyers.
Founded in 2004, Pigeon Express is a logistics service provider with 135 delivery centres across India and works with the country's leading e-commerce companies.
GoJavas was originally launched by Abhijeet Singh, Ashish Chaudhary and Randhir Singh Chaudhary under QucikDel Logistics Pvt Ltd. Later, Abhijeet, reportedly, transferred his 50% stake in the company to Sinha, who, then, became the largest shareholder in the logistics company. It is now co owned by Snapdeal.
Meanwhile, Snapdeal has also invested Rs 36 crore to build out its own logistics unit, Vulcan Express for end-to-end delivery. GoJavas, has placed itself on the blocks in search of a buyer after talks with Snapdeal fell through a few weeks ago, according to two people directly aware of the issue.
Also read-