13 April 2016, USA :
So, There's cool new feature added on Snapchat. You can now pin 3D stickers to objects in a video and stick with them no matter how they or your camera move. Add an emoji face, or even decorate self with weird snake skin.
By bringing augmented reality to the masses, 3D stickers could unlock new creativity. They're rolling out today on Android and coming soon to iOS. To use them, just record a video, tap the sticker button at the top of the screen, place your sticker over the object you want to stick it to, and long-press on the sticker.
Everyone is curious on how did Snapchat develop this cool new feature? Apparently it is made by in-house team and Snapchat refused to unveil more about it.
But techcrunch learned that Snapchat recently poached Eitan Pilipski, the VP of engineering from of Vuforia, an augmented reality technology that has…'the power to connect experiences to specific things in the environment.' That's exactly what 3D stickers do.
By using machine vision to recognize distinct objects in a video, Snapchat can track them as they move and keep the stickers in sync. I've asked if Snapchat might launch 3D drawing next, but the company wouldn't share its plans. But you can imagine how that might allow you to effectively create your own animated lenses by drawing on your face and having the doodles move with you.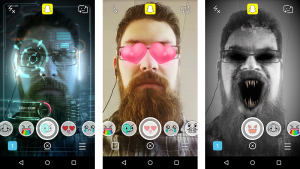 Through its animated lens and now 3D stickers, Snapchat is pushing the limits of what can be done with a video app. While Facebook is still trying to catch up by acquiring animated lens maker MSQRD, Snapchat is already on to the next innovation that could attract teen users looking to give their social media some flare. Looks like Snapchat is giving Facebook run for the money. Keep Snappin'!
Courtesy : techcrunch.com