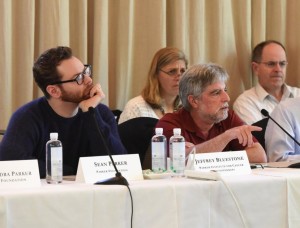 13 April 2016, San Francisco :
Billionaire Sean Parker, famous for his founding roles at Napster and Facebook is donating $250 million toward a revolutionary project bringing cancer researchers together to pool their research in fighting the disease like never before.
The new Parker Institute for Cancer Immunotherapy announced on Wednesday will focus on funding immunotherapy treatments that trigger the body's own immune system to fight cancer cells, which has shown fewer and less serious side effects than the traditional chemo and radiation therapies that can cause vomiting, extreme fatigue, hair loss, sores and memory loss.
"We are at an inflection point in cancer research, and now is the time to maximize immunotherapy's unique potential to transform all cancers into manageable diseases, saving millions of lives," Parker said in a statement. "We believe that the creation of a new funding and research model can overcome many of the obstacles that currently prevent research breakthroughs."
More than 300 scientists working at 40 labs in six institutions – Stanford, the University of California at San Francisco, the University of California at Los Angeles, the University of Pennsylvania, the MD Anderson Cancer Center and the Memorial Sloan Kettering Cancer Center – have signed on.
"Cancer immunotherapy is such an incredibly complex field, and for every answer, it seems to pose 10 more questions. I'm an entrepreneur, so I wish some of these questions had been answered yesterday," Parker said.
In designing this new model, the 36-year-old Parker has taken a page from his experience as an entrepreneur by thinking beyond early research to actual therapies that he believes could eventually benefit millions of people in the United States and abroad.
One of his central innovations – and the one that initially made some university partners uncomfortable – is that the institute will take the lead in licensing and negotiating with industry to bring any therapies to market. The researchers and academic centers will still continue to own the intellectual property.
"This allows us to run a much more competitive negotiation with industry. We would become a kind of one-stop shop for the technology," he said.
The new institute will be led by Jeff Bluestone, the respected former University of California at San Francisco provost and immunologist who is one of 28 members of a blue-ribbon experts panel recently named by Vice President Biden to advise the government's $1 billion "moonshot" initiative to cure cancer.
Parker explained in an interview that he first began thinking about immunotherapy in cancer more than seven years ago, when it was still considered somewhat of a fringe science.
Finding an immunotherapy treatment for cancer should be what he calls a "hackable problem," he decided as he began traveling around the country informally meeting with leading scientists to throw around ideas about how he could help.
Yet it wasn't until about three years ago that the current project began to take shape following the death of acclaimed film producer Laura Ziskin, a friend who died of breast cancer. "She had this incredible tenacity in terms of the problem," he recalled, "and became an important person in my life in terms of my thinking."
In America nearly 1.7 million get diagnosed with cancer each year, plus the 600,000 who die of the disease, Parker stated that it's time to accelerate research to find the answers.
Image : nydailynews.com
Comments
comments