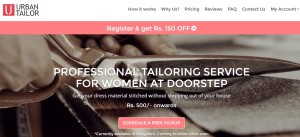 13 July 2016, India :
Urban Tailor, a Bengaluru-based venture that stitches customised women's everyday wear, has raised an undisclosed amount from Unitus Seed Fund and BS Nagesh, a retail industry veteran.
The funds will be utilised for scaling up its Bangalore operations and for expansion into other key geographies said T Vasudevan, co-founder and CEO of Urban Tailor while speaking to TechCircle.
"With this investment, we want to focus on building tailor capacity to undertake more orders/day, innovate on our service offerings such as on-demand alterations and expanding to more cities," Vasudevan said in the statement.

"The company's product platform that dynamically manages supply, demand and quality of service in real-time is poised to bridge the gap for quality tailored clothing at an affordable price, paving the way for e-tailoring to become a preferred choice", said Dave Richards, co-founder and managing partner of Unitus Seed Fund.
Urban Tailor's founding team includes Ashish Singhal, a computer science graduate who was a core member of Amazon India's technology team for four years; Lavanya Venkatraman, a fashion graduate from London College of Fashion and National Institute of Fashion Technology, who worked with Mytra for four years; and Vasudevan, who has wide experience in marketing and who headed the marketing and product division of Simplilearn, an online training company. It has served around 20,000 customers since inception, of which repeat customers account for around 50-60% of the total customer count.
Comments
comments