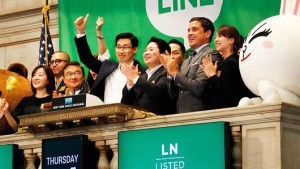 14 July 2016, USA :
Japanese social networking firm Line made its debut on the New York Stock Exchange Thursday at $42 per share, in the largest technology initial public offering of 2016.
The company provides free voice calls and messaging, and gets the bulk of its revenue from games, digital stickers, and advertising. Line's games have racked up a cumulative 628 million downloads, the company said. Line said it has 218 million monthly active users, with two-thirds in Japan, Taiwan, Thailand, and Indonesia.
Line, which is owned by South Korea's Naver Corp., has a messaging app used by 675 million registered users, of which 218 million are monthly active users, primarily in Japan, Taiwan, Thailand and Indonesia. Its messaging app lets consumers sent texts messages, photos and emojis over device data plans, rather than short messaging systems (SMS) sold by wireless carriers.
Now Line is going public in a year where IPOs have been few and far between in the U.S. and tech offerings have been particularly scarce. The last tech company to brave the U.S. public markets was Twilio, another messaging service, which surged 91% in its first day of trading in June. Many companies have chosen to shun the public markets in favor of an infusion of cash from private investors.