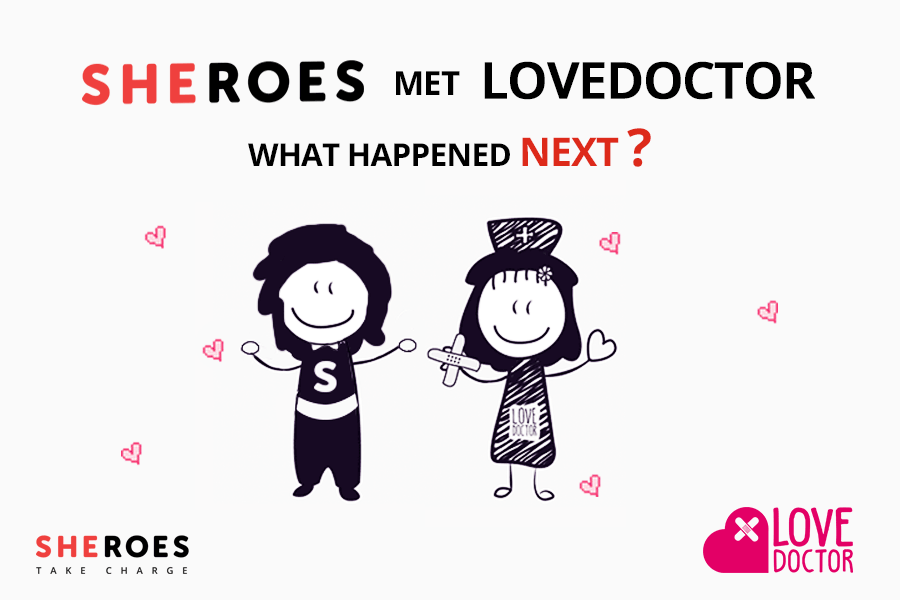 16 September 2016, India :
SHEROES has acquired an online counselling platform LoveDoctor.in, for an undisclosed amount, the company said in a statement on Thursday.
SHEROES Founder Sairee Chahal, says, "SHEROES already has a strong community and has become a reference point for all things women and careers. Having LoveDoctor on board will help us strengthen the relationship with community, by offering them deeper support and connect. SHEROES already offers mentoring and career helpline support to its community and this will integrate with those efforts. Women need to navigate several issues, as they navigate their work and life and having LoveDoctor become part of the SHEROES family will help us address those needs. It is a good time to put women's needs and aspirations on nation building map."
LoveDoctor is a platform to get confidential answers to questions about sex and relationships from experts. All of the answers are given one on one, in a private chat session by a qualified expert.
LoveDoctor.in founder and CEO Avani Parekh joins SHEROES as Director of Community and Empathy with a goal of making SHEROES a one-stop shop for women around the world to build their careers, find supportive community, level up their skill sets, and explore new possibilities for their lives beyond the workday.
Avani Parekh says "Joining forces with SHEROES allows LoveDoctor to bring essential counseling to hundreds of thousands of women. I hope that through this merger women feel safe, supported, and heard every single day through our counseling and other support channels. No one should feel alone. While the men have always used Lovedoctor.in frequently, we know that women have questions about love, relationships and sex too – but are shy, scared, or fear retaliation if they ask."
SHEROES is a career destination for women professionals, committed to career success and individual work-life fit. It welcomes women professional across levels, stages and sectors to pro-actively access the largest OpportunityScape for women.
There is a diverse and large range of opportunities to pick from – these include opportunities with women friendly employers, flex friendly formats, mompreneur programs, partnership programs and more. Source & Image- SHEROES blog.
Also read-
Comments
comments