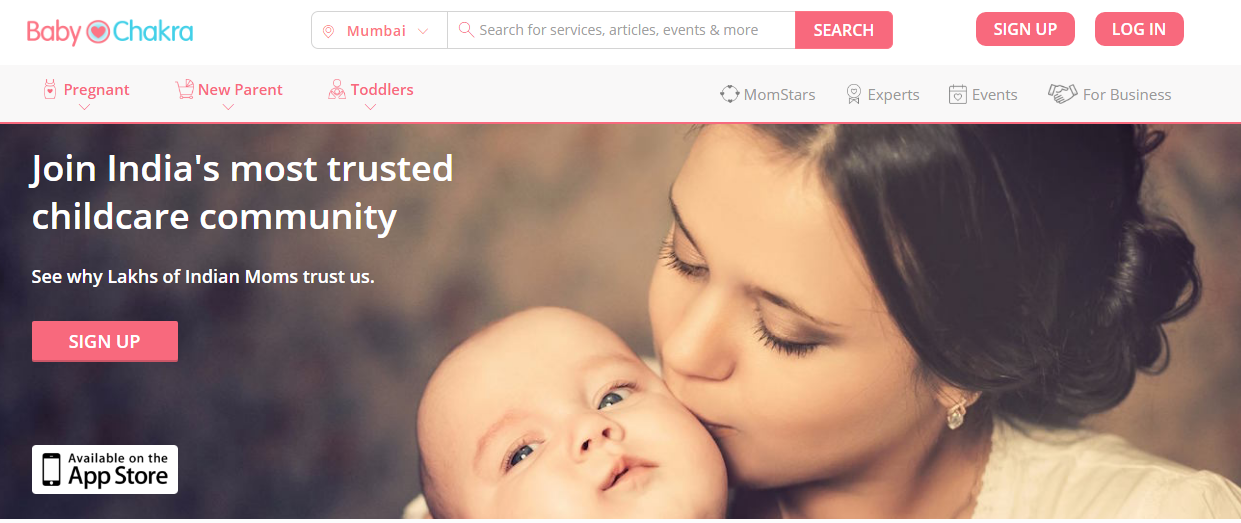 18 October 2016, India :
BabyChakra, a social discovery platform for young parents in India, has raised its Series-A funding from Seattle-based RoundGlass. The funding will help BabyChakra invest in product development, strategic hires and to creating localized content.
BabyChakra is the first-of-its-kind and the largest parenting platform in India for pregnancy and childcare. The company's goal is to become the go-to site& APP for resources and information on parenting and early childhood development.
BabyChakra is an online community that provides information on conception, pregnancy, birth, and early childhood for parents and parents-to-be. It is the country's largest community of mothers and top parenting and childcare experts. The site also provides reviews of more than 25,000 maternity and childcare services. All content and services focus on maternity and childcare: with in-depth content centered on healthcare, nutrition, early learning and support services (daycare, nanny agencies). The BabyChakra community is comprised of 500,000 mothers who visit regularly seeking advice and support. They also share recommendations and lessons learnt on their journey through pregnancy and parenthood.
"We created BabyChakra for two reasons: one because young couples are essentially raising children in nuclear families with no support system to fall back on. Parenting can be very isolating and many first-time parents need guidance and reassurance or immediate access to urgent questions. Secondly, this same community of young couples are also highly-active online consumers who use the internet to find homes, to seek guidance on technology purchases, and look for recommendations for restaurants and travel destinations. We saw a critical void for an online resource for childcare and parenting. It's such a critical function, but no platform existed. We decided to solve this and build the first platform of its type, globally." said Naiyya Saggi, CEO & Co-Founder, BabyChakra.
"Supporting the health and wellness of mothers and babies is the foundation of building a healthy future. BabyChakrahas created a powerful online resource for parents," said Sunny Singh, Founder of RoundGlass. "At RoundGlass, our mission is to change people's lives for the better. We want to help build platforms like BabyChakra that offer online resources and education for parents – to help our newest generation thrive. I believe that digital health solutions can have a profound impact on India and that BabyChakra delivers an invaluable resource for parents," added Singh.
RoundGlass is a socially conscious global firm spurring innovation and disruption in digital health and wellness. It aims to energize industry, technology and human connections to shape macro-level trends in health and wellness. As investors, RoundGlass funds and mentors the disruptors and mavericks that are accelerating the future of digital health.
Also read-
Comments
comments