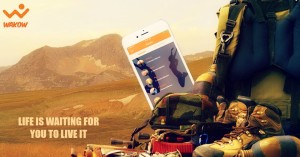 25 July 2016, India :
WakoW raised a seed funding from an angel investor and the amount wasn't disclosed. Recently it made $22k from a Taiwan-based company at $2.2mn valuation.
With an aim to revolutionise the way people and businesses connect with and discover each other, WakoW App Technologies has recently launched the WakoW application in India. WakoW is targeted towards people who want to connect with like-minded people in their vicinity.
WakoW helps people discover and connect with people in their vicinity based around activities of common interest. With an unlimited range of activities, people won't need to download different apps for different things anymore; thereby uncluttering precious phone space.
The App is essentially a hyperlocal buddy finder and a social network which helps in finding people to play sports with, do yoga with, jog with, carpool with, party with or even finding playdates for your kids. There is also a separate category for physically challenged people and other interesting categories that even include finding dog mates.
WakoW is also the world's first social app that rewards a user more and more as the frequency of using the app increases. The more activities one creates and participates in or the more following a user has, users receiving rewards from the app.
Also read- 
Comments
comments