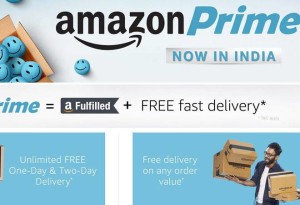 26 July 2016, India :
Amazon.in today announced the launch of its globally popular Amazon Prime membership programme in the country in over a 100 cities to enable free one-day and two-day deliveries to its customers.
Prime products will be delivered through the Fulfilment By Amazon (FBA) channel, which helps sellers by giving them access to Amazon's fulfilment resources, fast, free delivery options for their products and customer service.
"For sellers, Fulfillment by Amazon is now an even more powerful opportunity to rapidly grow their business and at the same time, provide customers across India with vast selection and unlimited fast free Prime delivery," Amit Agarwal, Vice-President & Country Head, Amazon India said.
Amazon Prime users will be able to get free shipping for anything they order with no price cap. They will also be able to secure one or two day deliveries for free. There will be 30-minute early access to new deals too.
All this will cost them Rs 499 per year. For now, there is a 60-day free trial period. This Rs 499 is a Rs 500 discount on list price of Rs 999 per year for the service. At an additional cost Prime users will get morning delivery in up to 20 cities. Not everything will be eligible for Prime, so you will need to look for the Prime logo against products.
Prime members in 20 cities can also choose same-day, morning or scheduled delivery at a discounted fee of Rs 50 per order on over 10,000 products. For deliveries to cities not yet eligible for one-day or two-day delivery, members will receive free delivery with no minimum purchase, it said.
Amazon's competitor, Flipkart, already has a similar service under the name Flipkart First which offers free-in-a-day guarantee delivery.
Check out the video below-
Also Read-