26 July 2016, India :
Legendary athlete PT Usha has joined the Health and Fitness app Fitso as its new an Advisory Head Coach. The main motive for PT Usha to join the platform is to help developing the right training plans for all the users on the platform. Fitso is one such platform, which helps you to get a personalized training for all your health and fitness needs like weight loss, weight gain, gaining muscles and running.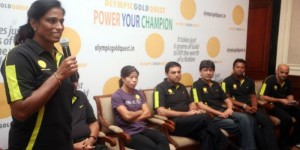 PT Usha said, "I am overwhelmed seeing the work developments at Fitso. It's a method of training prevalent in Western countries from long time and now is fast adoption in India. I always feel health and fitness awareness was missing in Indian culture. Activating common people to get healthy and especially women from all walks of life to improve their health, maintain their weight and start doing some exercises is something which was unattended till now.

Saurabh Aggarwal, Co-Founder, Fitso said, "We are really proud to have PT Usha being associated with Fitso. Fitso's focus is to make India a healthy nation and with the support of Ms. PT Usha, we feel more confident to bring permanent solutions to weight loss, diabetes and other health problems by making people take care of their diet and follow regular exercises schedules."
With the association, Fitso and PT Usha is trying to revolutionize the health and fitness space especially for women. Together they are trying to provide training sessions for free to the users on the platform to move them a step further towards a healthier self.
Comments
comments