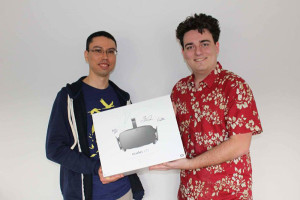 27 March 2016, USA : Oculus founder Palmer Luckey traveled to Anchorage, Alaska today to personally deliver a signed package the first preorder customer and freeze his ass off.Watch his warm breath crystallize in the frigid air in the video below.
Anchorage's Ross Martin was the first person to preorder the consumer Rift, so while everyoneelse has to wait until the very least Monday to get theirs, Martin will be wrapping himself in a warm blanket of polygons all weekend long.
I've been working on this thing for so long, and you're the first person to actually get one," Luckey said in the video. "So it's kind of like me taking all of this work and handing it off to you so you've got to make sure you have fun with it or something."
This is the first Rift to be delivered, but many more will be arriving Monday when the Rift officially launches. Most people will still have to wait a bit for the highly anticipated device. The $599 Rift is currently back-ordered for several months on the Oculus site.
Martin was at his office so he didn't end up having his PC build. Therefore instead of sitting down for a virtual reality gaming session, Palmer had to settle for some chitchat with Martin about how much it sucks to be working on the weekends, before he ends up cutting the video. IMAGE : Oculus VR