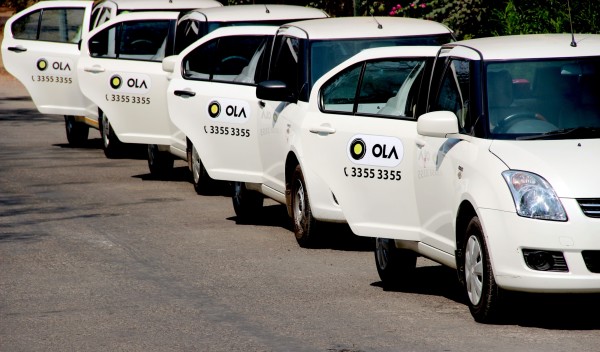 28 Jun. 16, GURGAON: Bengaluru based Cab aggregator, Ola has signed a MoU with the Haryana Government, with an aim to create 10,000 entrepreneurs in the state. As part of the MoU, the company will invest Rs. 350 crores in the next next five years to empower thousands of men and women and assist them in the inception stage of entrepreneurship.
Speaking about the initiative, Managing Director at HSIIDC – Shri Sudhir Rajpal said, "Haryana is developing at a rapid pace. Our government recently introduced the 'enterprise promotion policy' for ease of doing business here. Ola's commitment to building mobility for citizens by using cutting edge mobile technology and by enabling entrepreneurship and skilling will be invaluable for the state's growth."
"We are confident that our partnership with Ola will further accelerate government's efforts of pumping the economic development of the state with a focus on skilling and creating entrepreneurial opportunities for tens of thousands of men and women across the state," Sudhir added.
"We are proud to partner with the Government of Haryana to create more than 10,000 entrepreneurship opportunities across the state. To this end, we are planning to invest over Rs. 350 crore in Haryana over the next 5 years. We will work with the government to train and provide the right skill set to thousands of men and women across Haryana and help them take their first step towards entrepreneurship," said Pranay Jivrajka, Chief Operating Officer at Ola.
"We will also improve access to mobility in cities across the state by bringing on-board innovative transportation use cases like Ola Auto, Ola Share, Ola Shuttle, Ola Bike and many more, to complement the existing urban transportation system in Haryana," Pranay added further.
At present, Ola is operating in 5 cities across Haryana including Gurgaon, Faridabad, Panchkula, Kurukshetra and Ambala and plans to expand its services in the region further. The company will also work with the Haryana State government to introduce innovative and customised mobility solutions such as Ola Auto, Ola Bike, Ola Share and Ola Shuttle across the state and further aims to build for local mobility needs using its technology to serve citizens across Haryana by providing them instant access to reliable and convenient mobility.
Ola, founded in Jan 2011 by IIT Bombay alumni Bhavish Aggarwal and Ankit Bhati is India's leading mobile application for Intermediary Public Transport (IPT), integrating city transportation for customers and drivers onto a technology platform. This ensures convenient, transparent and quick service fulfilment for both customers and drivers. Ola's proprietary mobile application for drivers across commercial transport vehicles helps them connect with customers looking for a safe and reliable ride. Customers can access Ola through their mobile application for Android, iOS and Windows.
Also Read: Ola Introduces hourly rental services for Cabs