Accenture Plc, an IT corporation stated that it would reduce 2.5 percent of its total workforce, that is, about 19,000 jobs due to the worsening global economic situation.
"Over the next 18 months, these actions are expected to result in the departure of approximately 19,000 people (or 2.5% of our current workforce), and we expect over half of these departures will consist of people in our non-billable corporate functions," the company said in the regulatory filing.
It added, "While we continue to hire, especially to support our strategic growth priorities, during the second quarter of fiscal 2023, we initiated actions to streamline our operations and transform our non-billable corporate functions to reduce costs."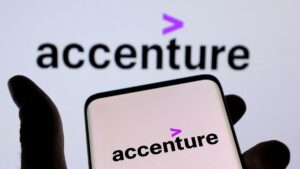 The company has also reduced its yearly revenue and profit predictions as it worries about an economic recession that may affect the company. The firm currently expects the annual income growth to be at the level of 8 percent to 10 percent in local currency. It previously had an annual budget of 8 percent to 11 percent.
The company, Accenture Plc predicts revenue for the third quarter of the fiscal year 2023 in the scope of $16.1 billion and $16.7 billion.
"Accenture expects revenues for the third quarter of fiscal 2023 to be in the range of $16.1 billion to $16.7 billion, an increase of 3 percent to 7 percent in local currency, reflecting the company's assumption of an approximately negative 3.5 percent foreign-exchange impact compared with the third quarter of fiscal 2022," it said in a statement.
Meanwhile, the firm, Accenture has reported the financial reports for the second quarter that ended on 28 February 2023. It declared revenues of 15.8 billion, which is a gain of 5 percent in US dollars and 9 percent in regional currency last year.
With consulting bookings of $10.7 billion and managed services bookings of $11.4 billion, new bookings for the quarter stood at $22.1 billion.
Previously, artificial intelligence company Flutura, which is based in Bengaluru was acquired by the consulting firm, Accenture.
"Flutura will strengthen Accenture's industrial AI services to increase the performance of plants, refineries, and supply chains while also enabling clients to accomplish their net-zero goals faster," Accenture said in a statement.
"Flutura democratizes AI for engineers. This acquisition will power industrial AI-led transformation for our clients globally and particularly in Australia, South-East Asia, Japan, Africa, India, Latin America and the Middle East," Senthil Ramani, senior managing director and Accenture Applied Intelligence lead for Growth Markets, said.