Adidas, the German sneaker company, has experienced a decline in its shares after warning about a €1.2 billion surplus of unsold merchandise resulting from the termination of its agreement with rapper Ye. If the company has to write off all the Yeezy inventory, it could result in an operating loss of up to €700 million in 2023.
The stock fell as much as 11% and has lost half its value since mid-2021. New CEO Bjorn Gulden has stated that the company is not performing to the standard it should be. He is currently conducting a strategic review with the aim of reigniting profitable growth by 2024, which could cost as much as €200 million in 2023. This would mark the company's first loss in at least three decades.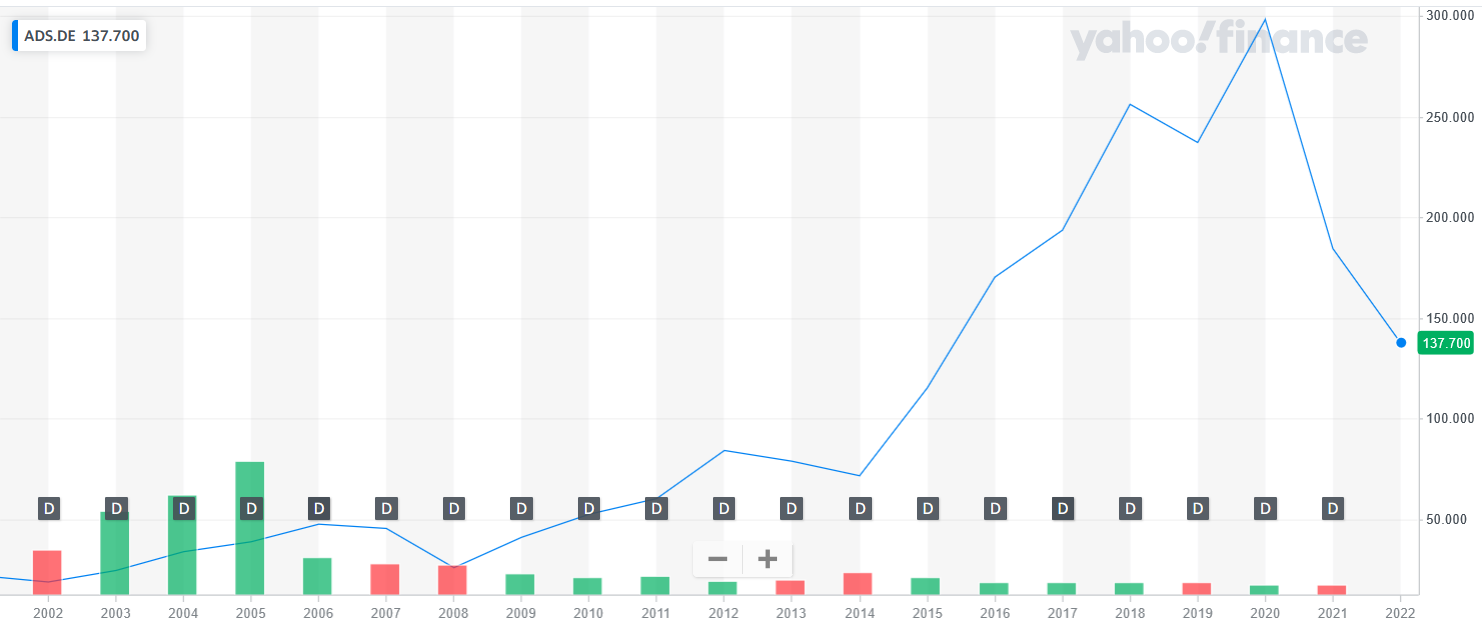 Gulden, who joined Adidas in January after a successful run at rival Puma, will focus on reviving the brand's sneaker and apparel line and winning back customers in the US, Europe, and China. He will also have to determine the fate of the Yeezy designs and whether they can be sold or repurposed without the brand name.
The termination of the lucrative partnership with Ye was made in late October following his antisemitic and racist remarks. The company had become heavily reliant on the Yeezy line, which it considered one of the most successful in the industry's history. Adidas is forecasting a high-single-digit sales decline in 2023, compared to the 4% growth estimated by analysts.
The new CEO intends to focus on the consumers, athletes, retail partners, and employees and create "brand heat," improve products, better serve distributors, and make the company a fun place to work. Adidas is also facing challenges in China where demand for its products has decreased due to a boycott and Covid restrictions. The weak full-year results and sales guidance for 2023 highlights the need for improved execution and brand health.
What is Adidas?
Adidas was founded in 1949 by Adolf Dassler, who was the brother of the founder of Puma. Adidas is one of the largest sportswear manufacturers in the world, offering a wide range of products for athletes and everyday consumers. The brand is known for its signature three stripes logo and is particularly popular in the fields of soccer, running, basketball, and training.
Who is Bjorn Gulden?
The new CEO of Adidas, Bjorn Gulden is a Swedish business executive who has worked in the sportswear and footwear industry. He was the CEO of Puma, a German multinational corporation that designs and manufactures athletic and casual footwear, apparel and accessories, from 2013 to 2019.
Prior to joining Puma, Gulden held several senior executive positions at companies such as Sketchers, The Timberland Company, and Nike. He is known for his expertise in brand management and product development, and for his success in leading companies to achieve significant growth and profitability.
Comments
comments