Aisle, the Bangalore-based matchmaking startup closed a INR 1.25 Crore pre-series A round on
TermSheet.io and ah! Ventures, with investments from key angel investors like Mekin Maheshwari and
Anand Chandrasekaran
Wednesday, January 27, 2016 :
Aisle.co
, a fast-growing Indian matchmaking startup based out of Bangalore, has raised INR 1.25 Cr in its pre-series A round from
TermSheet.io
and
ah! Ventures
. This round was notable for a number of reasons.
Anand Chandrasekaran
, Chief Product Officer of Snapdeal (who has previously invested in Pluss/Gigstart, Audeze, InnerChef, Instalively) and
Mekin Maheshwari
, who was earlier Chief People Officer with Flipkart, participated alongside
Akshay Syal
,
Richard Kim
,
Jana Pokkalla
and
Manish Gautam
. The round was led by Anand Vijay, a Bay Area-based angel investor on
TermSheet.io
and jointly advised and syndicated with
ah! Ventures
.
Aisle.co offers a differentiated experience to its niche audience of handpicked urban, independent Indians. Founded in 2014 by Able Joseph, Aisle.co is a fast-growing platform with around 500-800 registrations per day, 50+ countries activated, over 25% of the registered base 'connected', and has successfully led to crafting hundreds of relationships. Aisle.co is one of the top-grossing apps in the Indian app stores. Aisle.co does not believe in a 'one size fits all' approach and hence right from the point of registration on the site, maintains high levels of screening and filtering of its audience to maintain top notch quality of its offering. Given its strong filtering and operating procedure, it has been gaining strong traction and following over the course of the last 2 years. The company plans to primarily utilize the funds raised in this round for building a strong team and effective partnerships
Aisle.co is currently led by its Founder and CEO, Able Joseph, Bivin Benny – Director, User Relations (ex-Ogilvy, ex-Flipkart.com) and Razee Marikar – CTO (ex-Amazon, ex-Akamai). Commenting on the online dating space, Able Joseph said, "A balanced gender ratio coupled with a trustworthy brand which has gathered a comprehensive list of users who are of similar mind-sets when it comes to attractiveness and compatibility is exactly what urban India needs in the matchmaking space. Not everyone has got the formula right, and I feel we have managed to add most value in the online dating space for Indians".
Aisle is one of the most finely crafted matchmaking brands that have evolved for the new age Indians. India as a culture, is comparatively quite new to the idea of dating as compared to the west but given the cultural globalization and the lifestyle of financial independence that the Indians are experiencing, this concept in its unique way, is rapidly finding its way in the lives of today's audience. Although in spite of this change, the idea of dating and courtship via the digital medium still remains naïve. The audience is unfortunately offered extreme options of either platforms encouraging casual dating, which do not interest the ones looking for serious relationships or the other option of matrimonial websites, which again bound the new age audience to marriage without even giving the relationship between the partners, a chance to evolve. This crucial need gap of a lack of a trustworthy matchmaking platform for individuals trying to find a match with a genuine intention of settling down, is something Aisle.co, as a brand aims to address.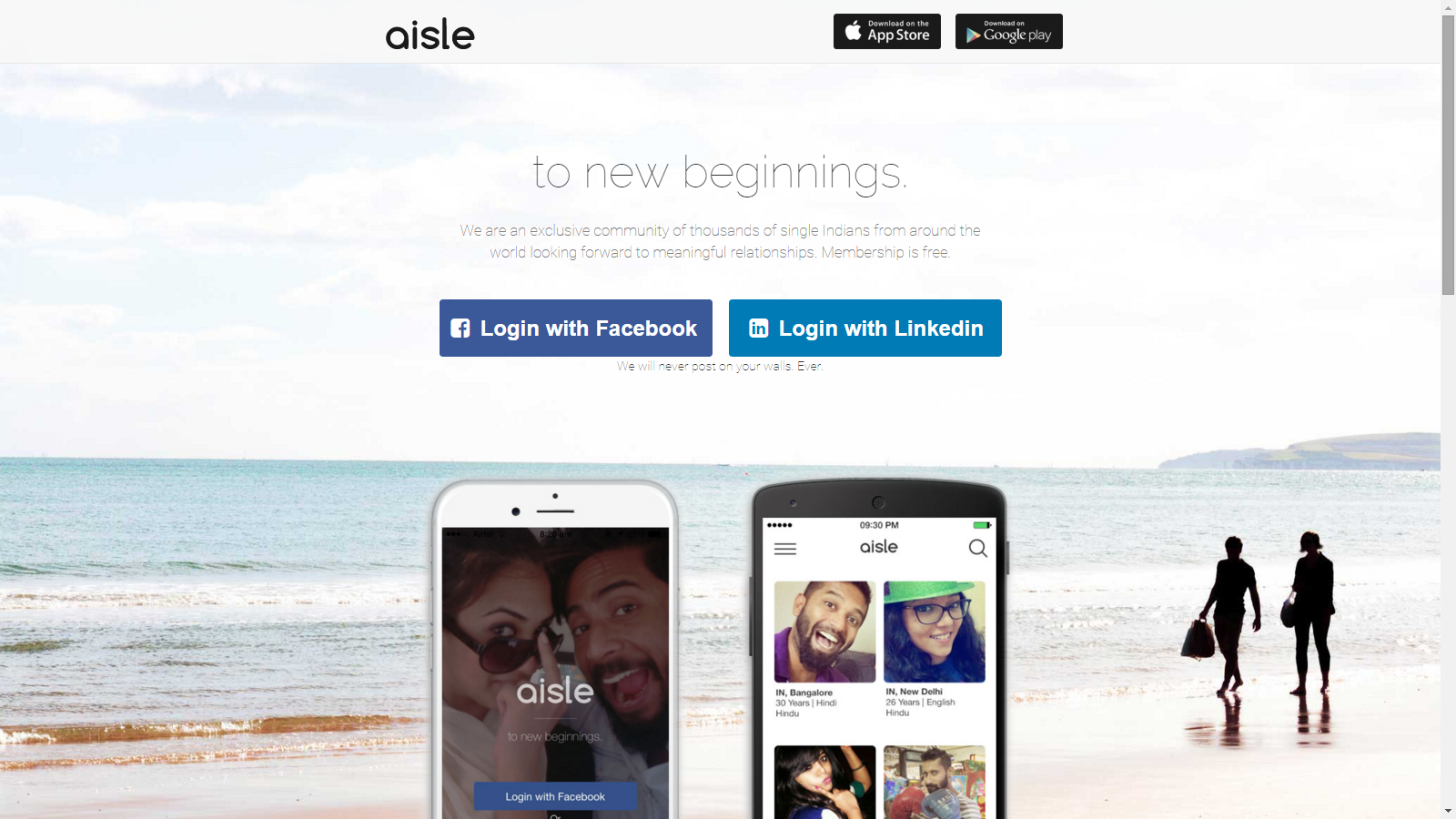 Commenting on this financing round,
Sonia Pradhan
, TermSheet.io's COO said,
"TermSheet.io focusses on identifying interesting startups that attract the attention of product-focussed angels and firms looking for outliers. Aisle.co checks on all of these boxes. We love what Aisle is building. And that is why this is the second time we have facilitated a round for Aisle on our platform. We believe in introducing interesting investors to high-calibre founders like Able and both Mekin Maheshwari and Anand Chandrasekaran fit this profile."
TermSheet.io, led by Vivek Durai and Sonia Pradhan, is a platform that automates deal discovery, orchestration and closing. More than 450 investors have signed up for TermSheet.io since its launch in December 2014. Based in IITM Research Park, Chennai, the TermSheet team currently focusses on seed investments in very interesting startups. TermSheet.io provides investors with a filtered list of startups that have been pre-vetted by its deal team. TermSheet.io is highly selective in its deals. TermSheet.io has closed eight seed investments and is currently closing its ninth deal with three more in the pipeline. In September 2015, TermSheet.io organized MoneyBall, an invite-only gathering of selected investors and startup founders. Aisle was one of the 10 startups that participated in MoneyBall.
Giving an investor's' perspective, Harshad Lahoti, Founder and CEO of ah! Ventures, said, "Online dating has seen very little innovation in the past couple of decades. Rarely do we see a dating app that is monetized from day one. When Aisle reached out to us, we instantly realized the potential in the product, the execution and the traction that it had gained. We're excited to join Aisle in its journey of helping more of the 37 million single Indians from around the world, in successfully finding their partners. ah! Ventures is thrilled to be a part of Aisle's next growth phase."
ah! Ventures is India's first full-spectrum startup investment network and platform comprising of over 600+ investors, including some of the renowned angels and early-stage VCs. CLUB ah! platform today has over 7000+ startups, 550+ seed/angel investors and over 75 VCs & institutional investors, making it one of the largest platform of investors and startups. The network also last year secured its first profitable exit from Ed-tech venture Harness Handitouch within 2 years of its investment. CLUB ah! has till date invested close to INR 70 crores in over 22 startups spread across varied industries and domains, including Aisle. ah! Ventures is in the process of closing 2 more deals in the coming weeks.
On working with TermSheet.io and ah! Ventures, Able Joseph said, "This is the second time TermSheet.io has helped us fundraise, their streamlined closing process ensured that we lost no time with the closing formalities and this in turn made it easy for us to focus on building our business in the meanwhile. We were fortunate to have worked with ah! Ventures for this round who were on point with their tagline – 'bridging ideas and money' and in our case the gap was realized in exactly eight days. ah! promptly and efficiently helped us close all investor interactions and the due-diligence proactively and on-time."
Notably, this deal was the first co-syndicated deal between TermSheet.io and ah! Ventures. It was the first one where a fundraising platform used TermSheet.io's accelerated closing process. This was also TermSheet.io's first follow on round.
---