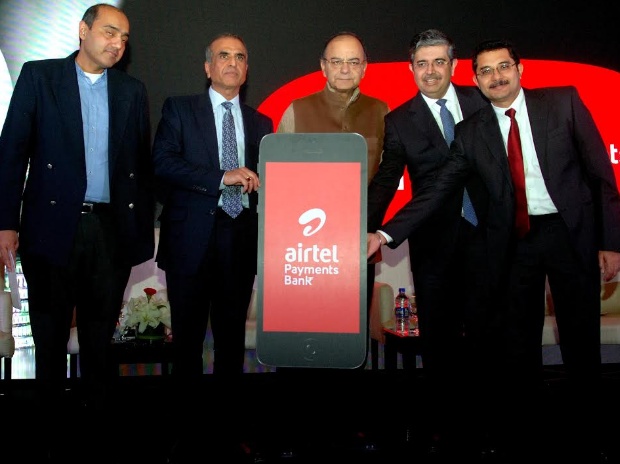 13 January 2017, India:
Union Minster of Finance and Corporate Affairs Arun Jaitley formally launched Airtel Payments Bank's national operations today. Also present on the occasion were Sunil Bharti Mittal, Chairman, Bharti Enterprises; Uday Kotak, Executive Vice Chairman & MD, Kotak Mahindra Bank; Gopal Vittal, MD & CEO (India & South Asia), Bharti Airtel; and Shashi Arora, MD & CEO, Airtel Payments Bank.
Sunil Bharti Mittal said, "Bharti has always undertaken transformational initiatives that have the potential to make a positive impact on the society and contribute to the development of India. Airtel has been at the forefront of India's digital transformation and has empowered over 260 million customers with affordable telecom services. With Airtel Payments Bank, we are starting another important chapter in our journey, with the potential to truly transform lives and contribute to financial inclusion in the country. Just like mobile telephony leapfrogged traditional telecom networks to take affordable telecom services deep into the country, Airtel Payments Bank aims to take digital banking services to the unbanked over their mobile phones in a quick and efficient manner. Millions of Indians in rural areas will get their first formal banking experience with Airtel Payments Bank."
He further added, "We are fully committed to the Hon'ble Prime Minister Shri Narendra Modi's call to build a Digital India and lay a strong foundation for India's transition to a cashless economy. Airtel Payments Bank will invest towards building a vast digital payments ecosystem with millions of merchants, and allow customers to make convenient cashless payments for good and services with their mobile phones."
Airtel Payments Bank, a fully digital and paperless bank, aims to take basic banking services to the doorstep of every Indian by leveraging Airtel's vast retail network. Starting today, Airtel retail stores across the country will also function as banking points, and customers will be able to open savings accounts, deposit and withdraw cash across any of these banking points.
Airtel Payments Bank commits an initial investment of Rs 3000 crores to develop a pan India banking network and digital payments ecosystem. It will have a network of 250,000 banking points (Airtel retail stores) across 29 states from day one. This is more than the total number of ATMs in the country. (Image- Business Standard/Dalip Kumar)