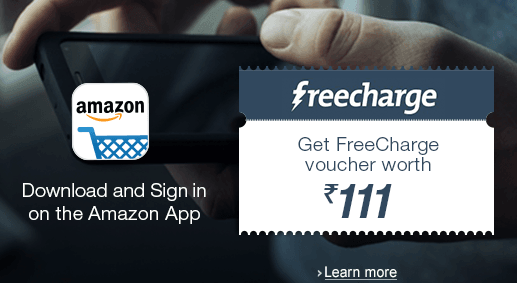 24 July 2017, India:
Online marketplace Amazon has made an offer of $70-80 Million to acquire Snapdeal-owned Freecharge. Other contenders who are looking to buy the digital payment app- Freecharge are Axis Bank, Airtel Money, Paytm.
Amazon's bid is in the range of $70-$80 million (Rs 466 crore- Rs 532 crore), with a term sheet signed by the Seattle-headquartered e-commerce behemoth and Jasper Infotech, which owns and operates both Snapdeal and Free-Charge, last week as per the report by ET.
Freecharge was acquired by Jasper Infotech for a whopping $400-450 Million and was looking at a Billion dollar valuation in 2015. Freecharge hit a roadblock last year when it failed to capitalize demonetization. Rival, Paytm went in all guns blazing and its fortune turned overnight as the company scaled new heights.
Related read- Flipkart Snapdeal Merger: The Complications And Outcomes Of The Deal
Mumbai-headquartered Axis Bank is currently conducting due diligence on FreeCharge, the deal could be valued around $60-65 Million. As per another speculation, Even Airtel is keen to acquire Freecharge apart from Paytm who were interested in buying the platform since the last couple of months. Paytm had even signed a non-exclusive term sheet to acquire rival FreeCharge for less than $100 Million.
FreeCharge was started in August 2010 by Kunal Shah and Sandeep Tandon. It is one of India's top payments app. Customers across the country use FreeCharge to make prepaid, postpaid, DTH, metro recharge and utility bill payments for numerous service providers. It raised Rs. 30 crores from Jasper Infotech- the firm which owns and operates the firm recently in order to survive until the acquisition takes place.
Meanwhile, Flipkart has offered $900 Million revised offer to acquire Snapdeal and it excludes the subsidiaries, Vulcan Express and Freecharge. Earlier this month, Flipkart made an offer of $800 million which Snapdeal rejected and there was news that Snapdeal might look to Infibeam as a potential buyer. Snapdeal was looking to merge with Infibeam to create a $2 billion worth new business entity. (Image- EarticleBlog)
Also read- Amazon Vs Flipkart And Uber Vs Ola. It's Not About Capital Dumping – It's About Good And Bad Investments.