20 July, 2018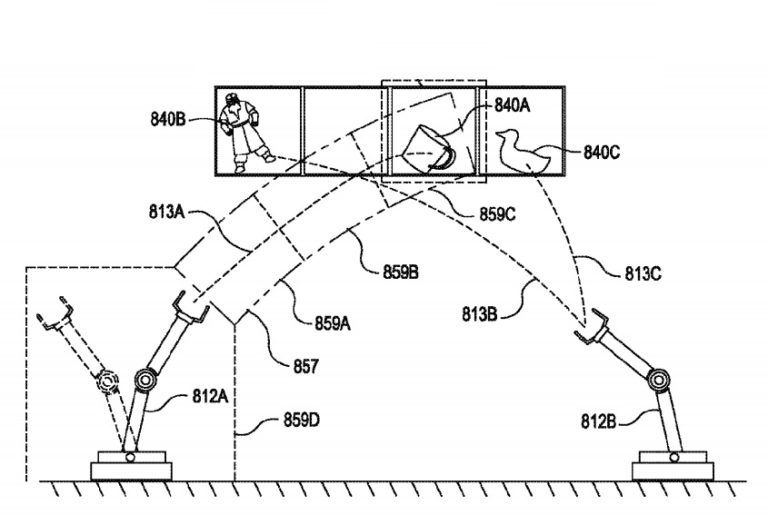 The 27-page patent, published Tuesday, describes robotic arms or manipulators that can use sensors to identify objects, figure out how best to grab onto them, calculate the required trajectories and fling the objects into chutes or bins.
"The tossing strategy may be based at least in part upon a database containing information about the item, characteristics of the item, and/or similar items, such as information indicating tossing strategies that have been successful or unsuccessful for such items in the past," the patent reads.
The patent application was filed back in 2015, and the mere fact that a patent was issued doesn't mean the robotic tossing machine will ever be built.
"We do not have any robotic tossing systems in our fulfillment centers," Amazon said in a statement emailed to GeekWire. "That said, we do have a variety of robotics in our fulfillment centers, including drive units, palletizers and a RoboStow, which is a 6-ton robot that moves pallets of products 24 feet high and directly onto our drive units for faster movement throughout our fulfillment centers."
"Anytime that 'tossing' and 'dwarf,' that those words are put together, is a real concern for us," Michelle Kraus, advocacy director for the organization, told the Mercury News when she heard about the patent. "It really opens up the possibility of mocking and really dehumanizing little people, people of short stature."
"The patent talks about everyday inventory items, including a mug, dwarf figurine and rubber ducky," the company said. "The intention was simply to illustrate a robotic arm moving products, and it should not be taken out of context."
"It's pretty shocking and upsetting," said Kraus, who's looking into the best way to follow up with the right people at Amazon. "We're hoping for a dialogue … but we'll see," she said.
"They don't quite appreciate that the example they're using is a replica of a human being," Kraus said.
(Image:- geekwire.com) 
Comments
comments