AMD has finally revealed the release dates for their highly anticipated Ryzen 7000X3D gaming-focused processors. The Ryzen 9 7900X3D and 7950X3D will be available starting on February 28th, while the 7800X3D will be available for purchase starting April 6th. These processors boast new and improved features, such as an efficient 5nm process, a more powerful socket, and generally excellent performance.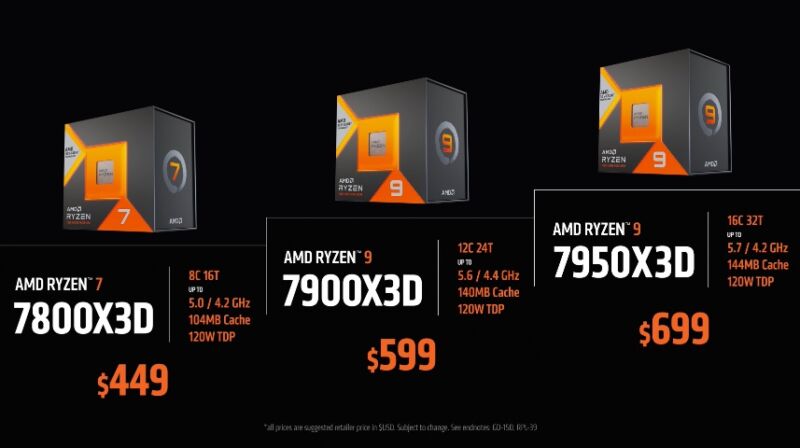 In addition to their impressive performance, AMD has also announced the prices for their new Ryzen 7000X3D. The 7800X3D, which has eight cores, will retail at $449, the 12-core 7900X3D will be priced at $599, and the 16-core 7950X3D will have an MSRP of $699. It's worth noting that these prices are only a $50 premium compared to the original Ryzen 7000 models, which had MSRPs of $399, $549, and $699 for the eight, twelve, and sixteen-core models, respectively.
One of the standout features of these new X3D processors is the 3D V-Cache design, which made the Ryzen 5800X into the incredibly powerful Ryzen 5800X3D. By tripling the chip's L3 cache, the 5800X3D was able to compete with Ryzen 7000 and Intel's 12th and 13th-gen designs in many games. The X3D version of the Ryzen 7000 is expected to offer even more extreme gaming performance.
Along with the release of these X3D options, AMD has also recently expanded their Ryzen 7000 lineup with the arrival of their 65W non-X CPUs. These non-X CPUs offer almost identical performance at a lower price, making them the best option for budget-oriented builds. Meanwhile, the X3D options are expected to offer the best gaming performance from the Ryzen 7000 lineup. The original launch models, however, are still a good fit for content creation workloads, especially since some X models have dropped in price and are now more affordable.
The shift to the new AM5 socket has reportedly led to slow sales for this generation of AMD CPUs. The AM5 socket requires both DDR5 RAM and a new X670/670E or B650/650E motherboard, which are still relatively expensive and may make the last-gen 5800X3D a more attractive option for some. The 5800X3D is paired with cheaper, readily available DDR4 RAM and AM4 motherboards, providing a significant upgrade over earlier Ryzen designs.
However, the new socket and faster RAM are expected to significantly improve the performance of these new X3D chips and help AMD reclaim the gaming crown from Intel's 13900K. The full performance potential of these new CPUs remains to be seen, and there is sure to be much excitement and anticipation around their launch. Stay tuned for further coverage and testing of these new CPUs.