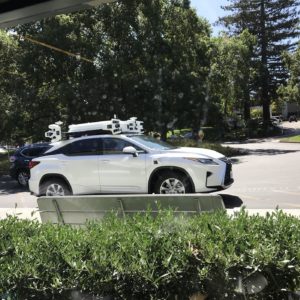 19 July 2018
Apple has continued to grow its fleet of Self Driving cars in California. This month Apple added 11 more cars to its fleet from a fleet of 55 self-driving cars to 66 self-driving cars.
This information comes from records filed with the California Department of Motor Vehicles. Apple is still not the most prolific tester of autonomous vehicles in the state, with GM Cruise leading the way at 117 cars with 333 drivers. Waymo is in second with some 72 cars and 411 drivers.
Apple comes in next with 66 cars and 111 drivers. While the company is testing autonomous vehicles in California, it does not yet hold a driverless car permit. This means that there is still someone behind the wheel overseeing the testing of the cars at this point.
Worked on under the "Project Titan" name, Apple's autonomous vehicle technology was originally thought to be part of a branded car, but the focus reportedly changed to just the self-driving vehicle system in late 2016. It is unclear what the current goal for Apple's work is, but it is thought to be the autonomous platform itself rather than an entire vehicle, with the potential of partnering with an outside firm to create a ride-hailing service.
Apple is also expanding its self-driving car team with senior Waymo engineer and NASA JPL engineer Jamie Waydo, who was responsible for checking  the safety of prototype vehicles and coaching the autonomous competitor ahead of real-world road tests in Phoenix, Before Waymo, Waydo's time at NASA included working on one of the agency's Mars rovers.