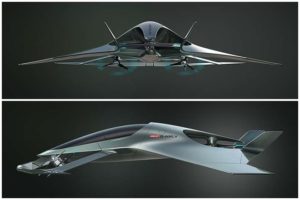 23 July 2018
Aston Martin, the British car maker revealed there flying car concept named the Volante Vision Concept. The Car was revealed earlier this week by the Automobile Giants at Farnborough Airshow. The company says the car could deliver luxury personal air transportation.
The company said, The autonomous car hybrid electric car, which is capable of seating 3 passengers and is designed for Urban and inter-city transportation. Company officials also told the car is capable of vertical takeoffs and landings and it can achieve a top speed of 200mph.
Aston Martin's President and CEO in a news release said With the population growing in Urban Areas and more and more congestions in cities and will become more demanding, We need to look for an alternative solution to reduce congestion and get control over pollution and improve mobility.

This idea is a result of combine partnerships between Aston Martin, Cranfield University, Cranfield Aerospace Solutions and Rolls-Royce.
Professor Iain Gray, director of aerospace at Cranfield University said: The Volante Vision Concept, symbolizes the unique capabilities of Cranfield in the field of digital aviation, autonomous systems and the electrification of aerospace.
Aston Martin has joined a long growing list of automobile and aviation companies and technology firms designing flying cars, KittyHawk backed by Google's co-founder Larry Page, Rolls Royce, Uber and many more.
Its gonna take a while we see such cars in our near dealerships but its good to see that carmakers are moving in right directions.