British Broadcasting Corporation (BBC) was found to be in "persistent non-compliance" with tax laws on Tuesday, as stated by the Income Tax Department, making it a "repeat offender."
The I-T Agency's announcement came moments after tax authorities on Tuesday investigated the BBC's offices in New Delhi and Mumbai, just weeks after the release of a movie that criticised Prime Minister Narendra Modi's involvement in the 2002 Gujarat violence.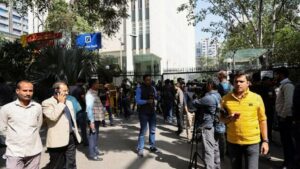 "Today, the Income Authorities conducted a survey on the BBC premises in Delhi, in view of the BBC's deliberate non-compliance with the transfer pricing rules and its vast diversion of profits.
It is pertinent to note that the above exercise conducted by the tax authorities is called "survey", not search/raid, as per the provisions of the Income Tax Act. Such surveys are routinely conducted and are not to be confused with being in the nature of a search/raid," said the I-T Department.
"The Income Tax Authorities are currently at the BBC offices in New Delhi and Mumbai, and we are fully cooperating. We hope to have this situation resolved as soon as possible," the BBC said in a statement.
The tax department said there have been "persistent non-compliance (from BBC) with rules for years."
"In the case of the BBC, there has been persistent non-compliance with the abovementioned rules for years. As a result, several notices have been issued to the BBC.
However, the BBC has been continuously defiant and non-compliant and has significantly diverted its profits. The key focus of these surveys is to look into the manipulation of prices for unauthorised benefits, including tax advantages. These surveys have been undertaken due to BBC's persistent non-compliance with the norms, making it a repeat offender," the department added.
The British Broadcasting Corporation (BBC) was charged by the Bharatiya Janata Party (BJP) on Tuesday for releasing "venomous" news about India and working with the Congress to advance their interests.
In reply to the Congress' condemnation of the Income Tax (I-T) move, BJP national spokesperson Gaurav Bhatia stated that the governmental organisation should be permitted to carry out its responsibilities and made clear that the "timing of the action was not decide by any government or outside power."
He attacked the national broadcaster with its headquarters in London, calling it the "most corrupt" entity in the world and reminding the Congress that previous Prime Minister Indira Gandhi also had blacklisted the channel.
The BJP leader further claimed that the BBC has a "tainted and black history of working with malice against India". "BBC propaganda and Congress agenda go together. Congress should remember that its own leader and former prime minister Indira Gandhi had imposed a ban on the BBC," he said.
The tax department said, "BBC has been non-compliant under transfer pricing rules; persistent and deliberately violative of transfer pricing norms; and deliberately diverted a significant amount of the profits and have not followed the arm's length arrangement in the case of allocation of profit."
The department continued, "As a result, the surveys have been carried out with a purpose to examining BBC's violation of the Transfer Pricing Rules and its diversion of earnings."