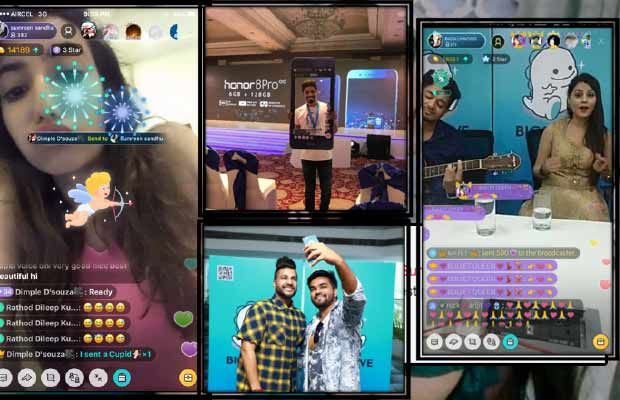 Amidst many LIVE streaming apps, BIGO LIVE– is one of the pioneers to enter the Indian market in April 2017, and started the trend of Broadcasting in India.
Reportedly, today it has over 40 million registered users in India and over 200 million downloads across the globe. BIGO LIVE claims to be an app which is not just opening new doors to earn but also promoting the talent in the user.
A recent press release by the company highlights two testimonials where the users have benefited economically from the platform.
"After joining BIGO, my life completely has changed unexpectedly, I got myself back to what I use to be before my marriage life as an independent person. Now I am working as an official BIGO host and am proud of myself because I entertain mostly the whole world by LIVE DANCING ACTING COMEDY while I am at home and the best part of it is while am working I can manage to look after my child", says Kaur Jee, a single mother and passionate dancer from a small town of Punjab.
"In short, BIGO gave me a new perspective to my life and chance to make new friends from all over the world", she added.
As per the company, Ajay Wadhwa from Sirsa who is a regular broadcaster on app quit his job with one of the retail giants in India and and started broadcasting on BIGO LIVE, he plays the role of Lolly Aunty today has more than 2.5 lakh followers from across the globe and is well supported and encouraged by them. He found a stable career in broadcasting which is not helping him to earn but follow his passion of becoming a renowned entertainer too, another broadcaster. Every day he brings new content to lure his fans, not just that he gives tips how to do make-up, what beauty product one should use, and answers the questions asked by his fans.
BIGO claims to be the fastest growing Singaprean Company promises to provide unmatchable video live streaming experience and has crossed several milestones by setting up a platform, where people not just share their creative talents, but also can indulge in various social media activities from live streaming their lifestyle, gaming ability, doing one to one personal chats, making and uploading short V-logs and with a new multi-user feature one could also close group conference call or a play various social games.
As BIGO LIVE is becoming popular between youngsters in India, now it is setting a trend where celebrities from various Industries has started coming and promoting there upcoming projects. Off late BIGO LIVE office has seen presence of Celebs from Bollywood like Parampara Thakur & Sachet Tandon, various Punjabi music industry artists like Meet Kaur, Preet Thind & VRK  and some of the renowned bands Like Astitva and Famous DJ TATVA K to be part of BIGO Celebrity Show which is one of its kind Live concert run through BIGO LIVE
The LIVE streaming App, BIGO has also raised awareness and raised funds for Cerebral PALSY Alliance in Indonesia, and supporting education for underprivileged children of Indonesia.
Interestingly, BIGO has been regularly collaborating with artists, singers, actors, philanthropists and people from several other  genres across nations and boundaries and has been facilitating seamless experience to users. The app is one of the most downloaded apps and boasts of earning First ranks on Google and Apple store respectively.
Related Read: Like Video's Secret To Reaching One Million Downloads In A Month
Comments
comments