Payments company Block Inc stated that it is "meaningfully lowering" the recruitment rate this year in order to reduce expenses and offered a positive outlook for a key profitability indicator, allaying some investor worries regarding the possible impacts of a failing economy and the cryptocurrency market.
In turbulent post-market trading where the price often shifted course, stocks of the firm, led by Twitter founder Jack Dorsey, rose by 7%.
According to Block, adjusted EBITDA will grow 30 per cent to almost $1.3 billion in 2023. By 2022, Americans successfully resisted inflationary pressures, but the future of the financial sector has been unclear because of worries that clients would postpone impulsive purchases as the economy worsened.
"Amidst this uncertainty, we intend to hold to our stated profit targets for 2023. If growth slows, we'll exercise discipline and look for cost initiatives to pull back," Chief Financial Officer Amrita Ahuja said on a call with analysts.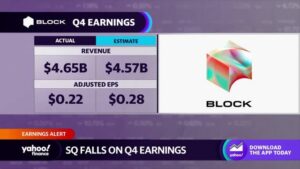 The fintech, which provides merchant payment systems and a cryptocurrency trading app, claimed a 40 per cent increase in fourth-quarter gross earnings to $1.66 billion.
"In 2023, we expect to increase our headcount by 10% compared to the prior year period, a significant change compared to a 46% growth in 2022," Ahuja said.
Block also revealed that it was reducing the rate of recruiting this year but was still anticipating a little rise in the workforce, defying a widespread downturn among competitor fintech companies that have been cutting jobs recently.
According to Refinitiv IBES data, Block generated 22 cents on an adjusted basis in the period that ended on December 31, falling short of analysts' projections of 30 cents.
The business announced a net income of $4.65 billion, slightly surpassing Wall Street estimates.
About Block Inc:
Block, Inc. built the financial services platform known as Square. Small and medium-sized enterprises can use tablets and PCs as payment terminals for a point-of-sale system that accepts credit card payments thanks to this solution.
After his buddy Jim McKelvey failed to make a $2,000 sale of his glass faucets and fixtures due to his inability to not accept credit cards in 2009, Jack Dorsey was motivated to establish Square.
Square debuted Square Card Case (later renamed Square Wallet) and Square Registration at the TechCrunch Disrupt conference in May 2011. Clients could create a tab and pay for their purchase using a saved credit, debit, or gift card with Square Wallet prior to being withdrawn from the Apple App Store and Google Play Store in 2014.