Business is a hard world. There's no denying that. And every tip and advice on how to run a business is appreciated by all newbie entrepreneurs. Sanjay Shah's Business management simplified gives you a ton of such advises on how to run a business. It is a must read for any anticipating businessperson.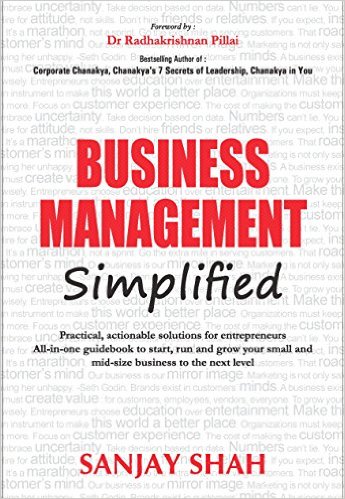 The book doesn't only tell you what a business is and how to manage it as an overall but also gives you tips on how to improve your business on a daily basis. Because no business is built in a day. It takes every day's patience, hard work, and dedication, to become a successful businessperson.
The ideas given in the book are not rocket science, in fact, they are easy to implement and really practical. The best part- there is no business jargon which will have you looking into the internet for the next couple of minutes. A simple book which provides you answers to the questions that puzzle you the most. What can be better than that?
This book is a change in lifestyle. You can make your life better and smarter if you take even a few ideas given in the book and execute them in real life. Apart from giving suggestions on building a business, the book also discusses problems like media management, marketing, branding, customer service, human resources, import-export and other practical issues that entrepreneurs face.
And those are not just theoretical solutions, but advices based on complex situations that he had faced while building a huge business. So read this book if you want a 360 degree overview of the industry you are getting into, and get into it with knowledge.
"In my opinion "Business Management Simplified" can be called the real "GEETA" for business. It has solution for almost any management problem a business may face." – Veena Parikh, Shaswat Systems Pvt. Ltd.