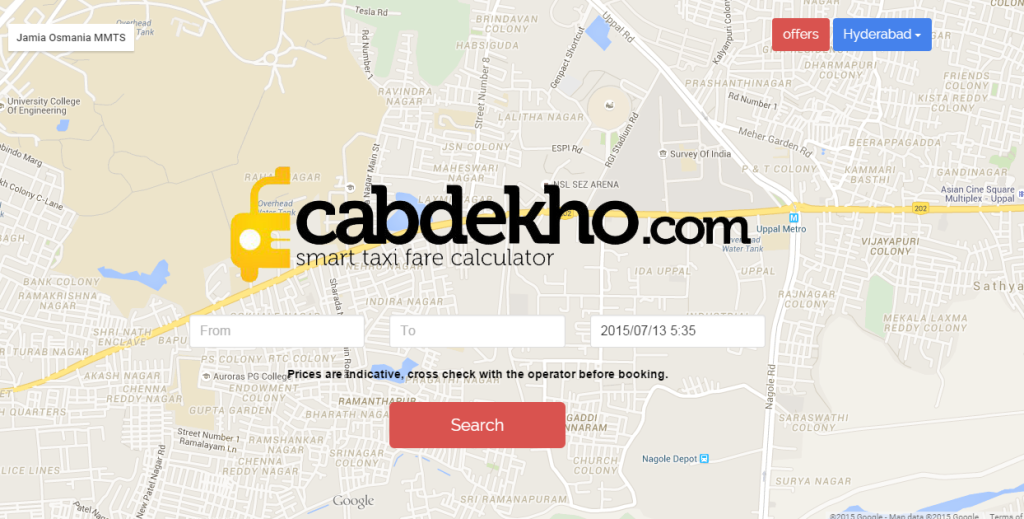 Cab Market Size of India: Figures
The Indian cab market is around 55K Crores and less than 5% of it is organized.
Uber, Ola and Taxiforsure are main rivals for India's Cab-hiring App Market
Ola has announced to touch 200 cities by the year end-2015.
(Read more about Cabs in India here)
As more and more cab service providers are jumping into the market, the competition to win the race is becoming fiercer. This offers a great advantage to consumers in terms of more options available to make a choice. However, this carries a snag too when the consumers get confused with so many offers and options available, in lack of proper guidance and well-informed services.
Cabdekho.com helping you compare and make better decisions
Flight price comparison websites have been around for a long time now, mainly because the users are desperately looking for discounts and savings on hefty airline prices. Cabs don't charge as much as airlines but the frequency with which a user travels in a cab is much more than if he/she would fly somewhere. "Frequency" is a major differentiating factor for the cab comparison market. Money saved is money earned; the more often you save the better it is.
Cabdekho, a cab comparison platform, is an application available to help you save better. It provides a great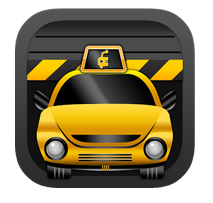 android app and a simple to use website that compares cabs and helps the user to pick the best one for their needs under 30 seconds. It compares different cab providers on Price, Proximity and Offers.
The idea was born when Karthik, one of the cofounders had to download four different cab ( The Big Cab Services such as Uber, Ola, TFS and Meru) to find the cheapest fare to go from 'Tank bund' to 'Ameerpet' in Hyderabad. This laborious exercise sparked an idea in his mind to bring the convenience of consolidating all this information in one place. Again, this tiresome exercise powered the spark in him to bring a solution to the everyday traveler. He wasted no time and started working to develop the prototype. Soon, others joined him including:
Sharath Dudala (32), CEO – Right after his bachelors, Sharath left for USA to pursue his masters and soon after started working there at Siemens for the past 9 yrs.
Karthik Vyas (23), COO – A philosophy enthusiast, in addition to his B.Tech, he also pursued MA in Philosophy from Osmania University where he was awarded a gold medal.
Pritvi Chaitanya (24), CMO – Prithvi quit his job to cofound Spark'd Innovations lab earlier to provide guidance on career paths to students and their parents.
Watch this video of 'The story of Bob and Cabdekho' to get better insights into Cabdekho:
Cabdekho Team and its goal
The company started in December 2014
The team consists of 6 people working part-time on this project. The Company brags that all their technology is built by students and fresher's right out of college. And it plans to keep it that way!
In his talk with Techstory, Sharath says that their primary goal is to help their users save money. Sharath believes in making technology simple. He further adds that "When we combined both, we got an amazing product like Cabdekho, that even a 5th grader could use without any help. We believe that we have designed our App or website in such a way that could save money under 30 seconds. This is our USP".
Currently, Cabdekho users can compare cabs in 38 major cities in India and more cities are being added by the week.
The Marketplace and the Future Plans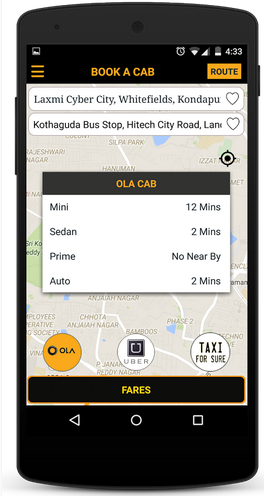 One of the biggest challenges faced by Cabdekho being Cab market is not as open as the airlines industry where the airline carriers would share their booking and status information with the 3rd party vendors to make bookings happen. The founders are more likely to see an open marketplace soon though.
Moreover, when they entered this market, the founders had the notion that the cab service providers would love them as they would drive a lot of bookings to them. But they quickly realized that unless the cab service provider has extremely competitive prices, providers wouldn't really be shown on the top of the list (sorting by low to high prices). So, those who couldn't give the best price wouldn't even want to talk to founders. "But this reluctance from cab service providers was a constant source of inspiration for us as this goes to prove that the user is getting the real benefit we always wished for" Sharath smiles.
The Team still faces such challenges and still has shown excellent growth in such a short span of time. It plans to add more and more cab service providers and even expand to more tier-2 cities. It aims to become 'The One Stop Place' everyone would visit before booking a cab. "We will keep pushing cab companies to give discounts to users through our app and promote their business". This is triggered by creating a win-win situation for both users and providers. Lately, the team is planning to raise seed round funding to grow quickly!
You can download Cabdekho app by clicking here. For more information, you can visit Cabdekho.com!