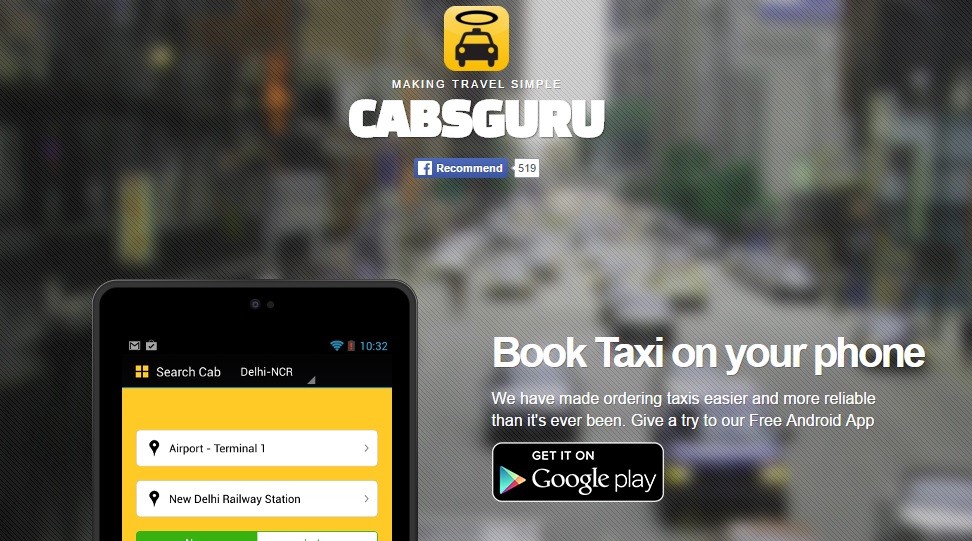 21 January, 2016, New Delhi: Cabsguru, a meta-search engine for road travel, announced today that it has closed a deal with ORIX Auto Infrastructure Services Limited (OAIS) to launch a premium category of intercity cab services in eight Indian cities including Delhi – NCR, Mumbai, Bangalore, Pune, Kolkata, Chennai, Jaipur and Hyderabad.
OAIS incorporated in 1995 is a wholly owned subsidiary of ORIX Corporation, Japan (ORIX). ORIX is one of the largest diversified financial services companies in Japan with global operations across 27 countries and is listed on the New York Stock Exchange and the Tokyo Stock Exchange. In India, ORIX has been a market leader in several verticals including B2B Rent a Car Business, Employee Transportation Solutions, Operating and Financial Leasing, Service Centres, SME Loans, among others.
Cabsguru is currently a marketplace cum meta-search engine that lets users search, compare and book cabs from all the major cab providers, including Ola, Meru, Taxi for Sure, Easy Cabs, among others on a real time basis. Cabsguru had last month raised seed funding from a group of angel investors and is serving a user base of more than one hundred fifty thousand users in over 75 cities.
Speaking on the tie-up, Sandeep Gambhir, Managing Director and CEO of ORIX said "There were some great synergies that we saw in the Cabsguru business model. While we as a company are happy to own the assets behind the B2B operations, Cabsguru would provide a great platform for us to reach out to B2C clients as well"
Pulkit Ahuja, Co-Founder of Cabsguru said, "We at Cabsguru have always been focussed on serving our users with top standards of quality, and with ORIX to back our services, our users can be rest assured of the same. At the same time, tying up with ORIX provides Cabsguru the critical mass that it needs to scale up quickly".
ORIX has recently added a new vertical for Self Drive Cars under the brand MyChoize Self Drive Cars in Delhi-NCR, Mumbai and Pune. Along with the Inter-City deal, Cabsguru also announced that Cabsguru users would soon be able to book MyChoize Self Drive Cars on the Cabsguru app in all the three cities.
Cabsguru had tied up with Jugnoo earlier this month to aggregate autos on the Cabsguru App as well as a part of last mile services for its users. On the inter-city front, Cabsguru is working on big data analytics to enable one-way trips for intercity bookings ensuring maximum utilization of the cabs and, in turn, maximizing returns for the drivers.