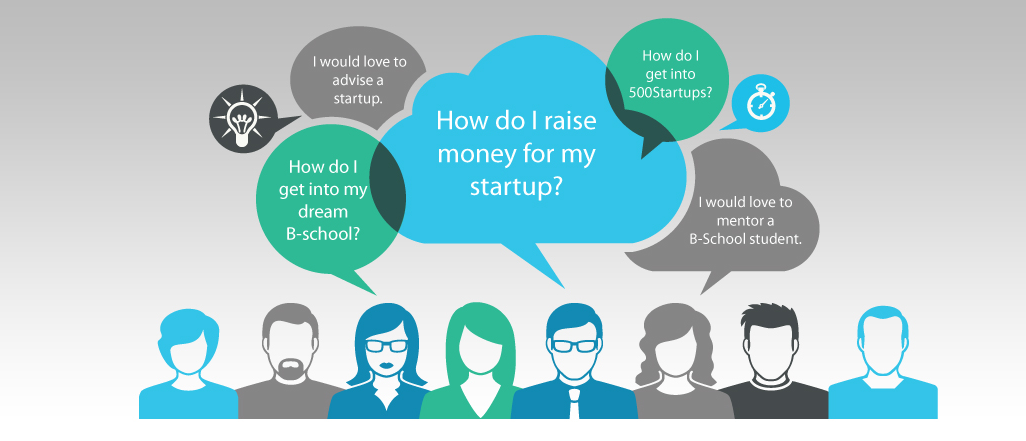 KarmaCircles (KC) is making it easy for people to give and receive help. KC has developed a particular format in which you can send a request for meeting, schedule it and then thank people for helping you. The basic flow is to receive/send a request for help, schedule it and once the meeting is over, send a KarmaNote (aka thank you note).
Discovering KarmaCircles
Deepak Goel, a serial entrepreneur and mentor at 500 startups, has been advising entrepreneurs. As a mentor and advisor to many ventures, Deepak is required to constantly held interviews and interact. Meanwhile, Deepak realized that however none of these conversations were documented and no track of any meeting was maintained. Deepak felt a need to create a platform to fill this void. He considered the thought "Why not have a platform where people can freely ask for help and share the gratitude for the help received." That's how Deepak founded KarmaCircles – The name actually resonates with their vision of Karma. Karma actually circles i.e. what you do to others ultimately comes back to you.
Understanding KarmaCircles
KarmaCircles (KC) is making it easy for people to give and receive help. KC has developed a particular format in which you can send a request for meeting, schedule it and then thank people for helping you. The basic flow is to receive/send a request for help, schedule it and once the meeting is over, send a KarmaNote (aka thank you note). A very interesting feature is that anyone on the platform can be a giver or receiver of help – the platform fosters a give and receive culture.
The mission of the KarmaCircles is to dignify the process of giving and receiving help. With the platform, a receiver can ask for help with dignity and on the other hand, a giver can decide whether he/she can extend helping hand or not. The entire process helps in building online reputation for the help giver and he/she can seek help from others whenever they themselves are in need of some assistance.
The platform makes it easy for you to search for precise assistance. You can search people on KarmaCircles by skills, groups, location and when you land on the desired profile, you can send a request for KarmaMeeting. Now, the helper has two options: Either he can archive it, i.e. to convey that he is busy at the moment and would be taking up the meeting later, or he chooses to accept it and provides meeting details. Once the meeting is over, KarmaCircles sends a reminder to the help receiver to thank the help giver. Now, help receiver is enabled to send a KarmaNote (aka 'Thank you note') and endorse the help giver for various skills.
Building KarmaCircles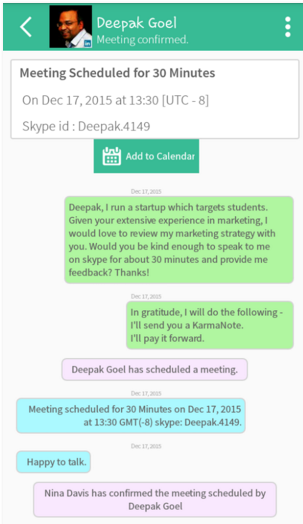 The website for KarmaCircles was launched in January 2015 and the Android app was launched in Dec 2015. So far, there are 3000+ people on platform, and more than 800 meetings have been documented through the platform. Though they are not focused on growing aggressively on user base, their current focus is on iOS app which would be launched in a couple of months. The new mobile app on Android has been designed to make the process simpler- Easy to schedule meetings, say no in case of unavailability or inability to help. "We are building a social network based on give and take premise" says Deepak.
Moreover, KarmaCircles is growing with combination of two growth strategies: Enterprise Strategy which includes accelerators, business schools, corporates and the Influencer Strategy which involves recognized personalities.  Accelerators and Business Schools are the main target. Deepak explains that accelerators and Business Schools are their source of major growth as they already run mentoring programs and it is easier to tap them. KarmaCircles is also reaching out to influential people. The strategy is simple in which the team reaches out to individuals and conveys them how they can use KarmaCircles as an effective tool to schedule and document all their meetings.
Challenges
One of the major challenges KarmaCircles is facing, especially on corporate side, is either the organizations believe in mentoring or they don't. If they believe in it, generally there is an employee/team which runs the mentoring program at the firm. More often than not, he/she gets intrigued and agrees to evaluate the KarmaCircles platform but then they don't want to use it because it eliminates the need of the person/team itself since the KarmaCircles platform is self-managed.
They are currently tackling this challenge by approaching individuals from various organizations and getting them on board to use the platform. Gradually, these employees would pitch the KarmaCircles platform to their own organization which would scale up the operations.
Funding and Future
Deepak bootstrapped the company along with a close friend and the team is looking to raise a small round of angel funding.
Talking about the industry and competition, Deepak has to say that the extent at which KarmaCircles is transparent, no other mentoring platform has been able to achieve it. "We do not believe in the philosophy of Mentor and Mentee, rather we say that anyone can be a Mentor or Mentee depending on the situation. That's where we stand apart from our competitors. We are building a new social graph which is based on actual give and receive." The platform is free for use for consumers as well as organizations.
About Deepak Goel
Deepak Goel is founder at KarmaCircles. He is a serial entrepreneur, advisor to several startups and a TEDx speaker. Deepak is a seasoned product management and product marketing executive. He was co-founder and Chief Technology Officer of Packback (a Chicago-based startup funded by Mark Cuban & other notable angel investors) where he built their product strategy, online marketing strategy and engineering team.  He was the Chief Product Officer of IndiaHomes (backed by NEA, Foundation Capital & Helion Ventures) where he built and led product management, marketing and engineering teams. Deepak is a mentor at 500 Startups and an angel investor in few startups (Sverve, Packback, Wishberry, TheStylisted). He is also an advisor to Khosla Impact Fund & Impact Engine accelerator and advises several companies on strategy, product, marketing and technology.
Deepak is a computer science graduate from IIT, Delhi, India and holds an MBA from Haas School of Business, UC Berkeley. He is a Mensa member and has patents for 4 of his inventions (3 issued, 1 pending).
Speaking about his work-life balance, Deepak says that he is working really hard ever since KarmaCircles was founded. He still continues to offer his advice to other entrepreneurs through skype/phone calls. You can also schedule a call with him at http://www.karmacircles.com/deepak via the KarmaCircles android app.
You can also contribute to the KarmaCircles community by downloading the KarmaCircles app on Google Play Store or by signing up at karmacircles.com.
Similar Reads:
Beerud Sheth's Teamchat Provides Power Of Email & Whatsapp For Your Enterprise Needs !
The vision of the Hallwaze is to help enterprises build great teams!