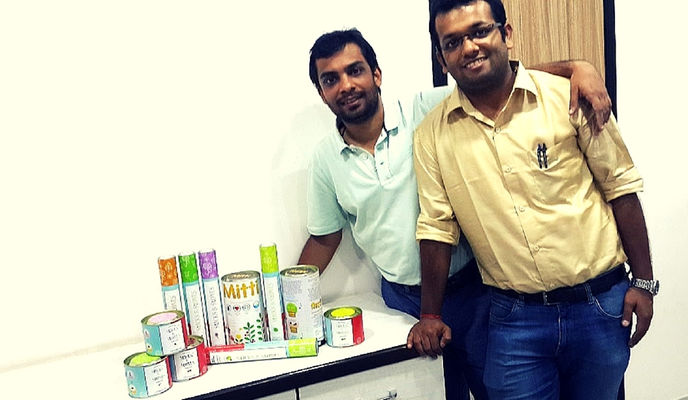 12 February, 2016, Kanpur: Making new objects out of the scrap is very much an old school but making a new essence out of them, marks as an invention. The two friends from Kanpur have put down their gears to utilise waste flowers in making bio-fertilisers and lifestyle products.
Ankit Agarwal and Karan Rastogi, two friends from Kanpur who grew up around the famous ghats of the Hindu's holy river 'Ganga' had always concern over the condition of the river. Every day, tons of flowers and other materials are thrown into the river as an offering to God. Recently, Narendra Modi, during his election campaign, put the point forward of making 'Ganga' as clean as ever.
The duo has taken up the challenge and with years of research and findings, they have come up with a solid base to resolve the issue. As per their research, every year, approximately 80, 00,000 tons of waste flowers are dumped into Indian rivers. According to the many religious believes, flowers offered in shrines are of high  religious value and cannot be dumped in garbage which is why they are discarded in the river.
"Karan and I have been friends since childhood and some of our friends live abroad as well. Whenever all of us meet in Kanpur, there isn't much to show them in the city. And when our friends see the river, their first reaction always has to do with how polluted it is. That was the starting point for our idea. Karan used to go to the temple every day and he would see the waste flowers being collected to be dumped in the river. So we thought of doing something to treat these flowers," says 27-year-old Ankit.
The duo started their research back in 2012 and in the year 2014, they came up with a brilliant idea. In May 2015, they founded Helpusgreen with the aim of utilizing the disposed flowers and turning them into bio-fertilisers and lifestyle products. Both Ankit and Karan collect flowers and distribute among themselves and then treat them with organic materials to develop bio-fertilisers and lifestyle products.
Image-inshort.com