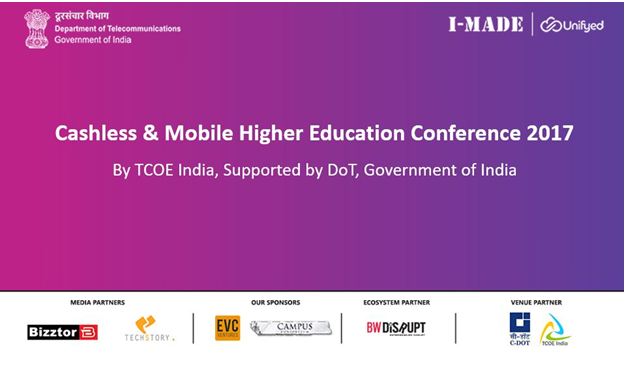 New Delhi, 21st September 2017: Keeping Prime Minister Narendra Modi's vision of Digital India in mind, I-MADE Unifyed Digital Campus initiative along with TCOE and Department of Telecommunications had organized Cashless & Mobile Higher Education Conference on 15th September 2017 at CDoT Auditorium, New Delhi.
The Conference witnessed participation from Department of Telecommunications, TCOE India, EVC Ventures, and Higher-Ed institutions across India including institutions under University of Delhi.
Gone are the days when universities used to engage students with physical notice boards, traditional calling attendance systems without tracking capabilities in place. I-MADE Unifyed Digital Campus initiative is helping universities go mobile at 'Zero Cost'. With more than 35,000 institutions, 20 million students and over a million apps, I-MADE is not just empowering institutions but is also helping students turn ideas into revenue generating companies.
The Digital India Mission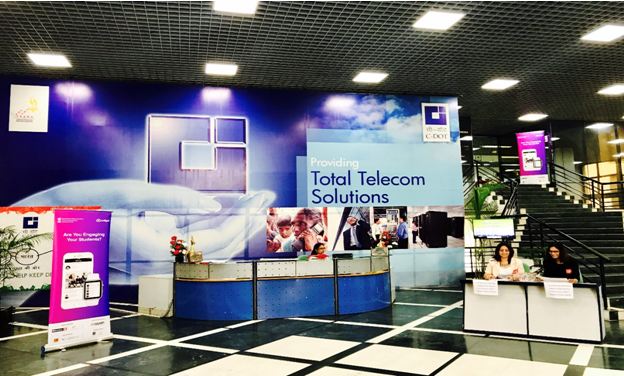 The Narendra Modi government embarked on an ambitious programme to bridge India's digital divide, connect thousands of villages to the Internet and create millions of jobs. Digital India is aimed at transforming the country into a digitally empowered society and a knowledge economy.
While a broader dimension to e-governance was imparted in the mid-90s, the Modi government realized more needs to be done to accelerate the Digital India mission and launched the programme to transform the entire ecosystem of public services through the use of Information Technology.
When he launched the campaign on July 1 last year, he said, "We have to move from e-governance to m-governance. m-governance does not mean Modi governance. It means mobile governance."
Highlights of The Conference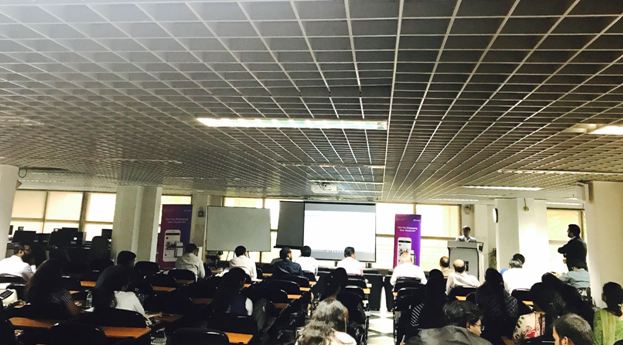 Mr. Anurag Vibhuti, Deputy Director TCOE, kickstarted the conference throwing light on the partnership between TCOE and I-MADE.
R K Pathak, Director TCOE highlighted the benefits accruing to the participating institutes and their students.
Pratyusha Vatsala from the University of Delhi and Dr. Srinivas from IP University shared their experience on how I-MADE Unifyed Digital Campus initiative helped them align with their digital campus mission and how it has enhanced the engagement with students. Vikram Bawa from I-MADE, along with his team gave a live demo on how I-MADE works and how different applets inside it helps institutions engage and retain students like never before.
Ideation Marathon (B-Plan competition) saw 6 teams (Finalists) presenting their business plans with an aim to pitch to global seasoned investors, like EVC Ventures for acceleration support and win cash prizes.
The Conference is planned to take place PAN India in the coming months.
Unifyed provides higher education with a single platform to rapidly launch a digital campus for mobile devices and websites. Unifyed services more than 20 million end users today and has recently been selected by 30,000 education institutions as an engagement platform.
Telecom Centres of Excellence was set-up with the shared realization, by the Government and the Telecom Industry with the sole idea of promoting entrepreneurship, R&D and innovation aspects in the ICT and Telecom sector. TCOE has opened up their research platform to all the stakeholders of ICT sector for enabling industry-driven research through a competitive process. For this purpose, TCOE may have collaboration with other academic institutions and funding for the projects would be accessed from Government, Industry and VCs etc. TCOE invites entrepreneurs, researchers, industry and academicians to be a part of TCOE initiative for Research & Development.