Caviar has continually pushed the envelope of extravagance when it comes to customising premium technology. The Apple Vision Pro CVR Edition, their most recent product, takes the already outstanding AR headset and coats it in 18 karat gold. This premium model of the headset is made for users of private jets and has Connolly leather headbands and flip-up protectors inspired by well-known fashion labels. Only 24 apartments, each expected to cost $39,900, are scheduled for release by Caviar in the autumn of 2024, continuing to serve a specialised market that values exclusivity and the highest level of luxury.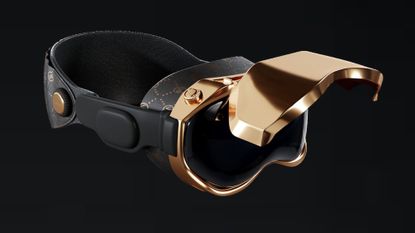 Credits: Caviar
Caviar: Merging Tech with Extravagance:
For more than a decade, Caviar has been a well-known luxury brand in the tech sector. The business is renowned for its ability to combine cutting-edge technology with priceless materials to create unique goods using materials like gold, diamonds, carbon, and even meteorite fragments. Caviar's catalogue is an astounding display of riches, with everything from a gold-plated PlayStation 5 to a $20,000 personalised Biden vs. Trump iPhone 12. Unique Apple Watch cases, gold-plated Samsung Galaxy S23 Ultras, and iPhone 14/15 Pro/Max models are all part of their current lineup. The business also sells carbon fibre iPhones and crocodile leather cases for customers looking for a little extra class. The majority of Caviar's customers are those who enjoy luxury, such as high-net-worth individuals, collectors, and enthusiasts who value the marriage of technology with extravagance.
The Apple Vision Pro CVR Edition: An Unparalleled Display of Luxury:
The ultimate of opulent AR headset customisation is the Apple Vision Pro CVR Edition. Caviar has created a work of art out of Apple's cutting-edge technologies. The protective mask and casing are plated in 18 karat gold, which oozes luxury. The Connolly leather headband gives a touch of royal sophistication. The flip-up protection combines design and practicality to make a stunning visual statement. It was inspired by Gucci ski goggles and Tom Ford glasses.
Limited Availability and the Impact:
The Apple Vision Pro CVR Edition will surely become a sought-after collector's item because there are only 24 units expected to be produced. Its rarity and attraction are increased by the restricted supply. But with each headgear costing $39,900, it is out of the average consumer's economic range. Instead, it serves the wealthy clientele who can afford to make such opulent purchases. This elite group consists of private jet owners, fans of high-end automobiles, and those who enjoy the finest comforts life has to offer.
Caviar's entry into the exclusive AR headset industry enhances its standing as a supplier of luxury. The business appeals to a particular clientele that desires distinctive and personalised luxury things by fusing the most recent technology with materials associated with wealth and prestige. The Apple Vision Pro CVR Edition shows how technology customisation has the potential to go beyond simple utility and become a way to exhibit one's uniqueness and wealth.
Conclusion:
Caviar's Apple Vision Pro CVR Edition is the perfect example of how cutting-edge technology and lavish luxury can coexist. Caviar's customization choices satisfy the needs of discriminating customers looking for specialised and unique electronic solutions. The AR headset is transformed into a prestige and richness symbol by the incorporation of 18 karat gold, Connolly leather, and well-known fashion brand inspirations.
Even while the Apple Vision Pro CVR Edition is still beyond of most people's price range, its superb design and limited availability add to its attractiveness. Caviar's constant dedication to pushing the limits of premium customization guarantees that their goods will hold the interest of individuals who value the fusion of technology and elegance. One of the 24 Apple Vision Pro CVR Edition headsets will surely act as a statement piece for individuals who are fortunate enough to own one, displaying their respect for excellent design and unashamed luxury.