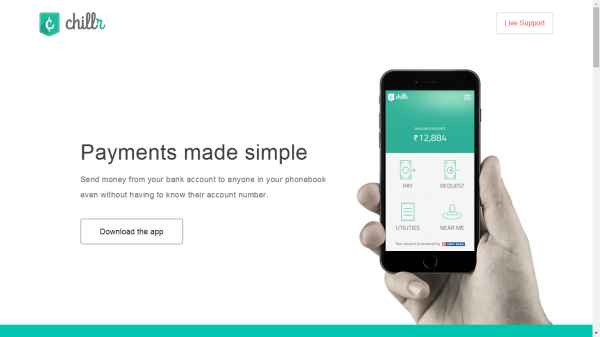 Mumbai, Oct 4 (PTI) : Multi-bank mobile payment app Chillr said it has raised USD 6 million (around Rs 40 crore) in series A round of funding from Sequoia Capital to support its growth plans.
"The round is not closed yet, and there will be other investors joining in the next few weeks," Chillr said in a statement issued here.
Sequoia Capital MD Shailesh Lakhani said: "Chillr is the smoothest payment experience we have seen. We look forward to partnering with the team as they eliminate cash."
The company will use part of the capital to acquire customers and merchants while the rest will be invested in technology and strengthening the team.
Chillr aims to tie up with 30,000 merchants and on-board 15 leading banks by the end of March 2016.
It aims to expand its team size to 150 from 70 by the end of the current fiscal.
"We have crossed four lakh transactions since Chillr's beta launch in February 2015," the start-up's founder and Chief Executive Officer Sony Joy said.
"We have witnessed that average peer-to-peer transaction value is close to Rs 1,000 and most users recharge their mobiles three or more times in a month.
"This proves that users are preferring to use digital money and the capital infusion will help us enhance our offerings and achieve the vision of enabling a digital economy," he said.
Besides person-to-person money transfer, Chillr currently supports recharging of pre-paid mobile plans, DTH and data cards.
Comments
comments