"We saw that startups were failing to differentiate their talent brand from each other. Really good candidates couldn't decide which startup to work for because they had the same salaries for similar job roles. We built Jobspire as a platform where companies can showcase their work culture in pictures, people and team involved and interesting trivia."

Employment has always been a matter of concern for the workforce of India. Human resource experts believe that job market in 2015 is going to be in a strong hiring mode and companies are preparing themselves for aggressive recruitment across the board. With players like Aasaanjobs, IIMjobs, and Babajobs in various segment, the job market has boomed, and India Inc planning to create close to 10 lakh new jobs in 2015.
Prime Minister, Narendra Modi also launched a comprehensive job portal, National Career Service recently, which focuses on connecting all existing employment centers at one point.
An Aspire to create the Jobspire
"We want to solve such problems which the world is facing today and make it a better place to live. This was the core of why we started Jobspire" says the founders at Jobspire.
Jobspire was first envisioned when founders were still in the 7th semester of college, and they were working round the clock (salvaging 3 hours of sleep a night) collecting information and building the tech for the platform (Read more here). They're tech guys who don't believe in MVPs, so they built a fully fledged, scalable product from day one. All of them believe products are like leaky buckets and need fine tuning with a small set of users before being thrown into the public, so they put themselves into stealth mode until today when they decided to go public.
Jobspire started out as a visual job platform which helps you find the perfect fit. Today, as a sophisticated platform providing end to end recruiting solutions that include sourcing, matching, decision-making and tracking, Jobspire solves the problem of DNA-matching a candidate to the company.
Apart from the visual company profiles – what the office looks like, who works there, trivia, etc; Jobspire built features that allow candidates to stand out – like the ability to answer quick 5 minute, on the job, business challenges (that are designed by Jobspire team with the help of recruitment experts, that help recruiters get a mental snapshot of the candidate's thought process). They identified the top 22 startup job roles in India and designed specific challenges for each with subjective results. For example, if you're applying to a data scientist job, you will be presented with a graph of Flipkart vs. Amazon revenues and asked for your inferences. The Jobspire team has seen that this gives startup employers a mental snapshot of how the candidate thinks and how he would tackle day-to-day problems on the job as the CV is quite ineffective. From the data produced by Jobspire, a recruiter spends less than 4 seconds on a CV.
They track everything, so eventually they want to use machine learning and see what words, phrases and numbers used by applicants get more recruiter attention. A few samples are available on their press page.
Jobspire claims that their biggest differentiator is manual and algorithmic curation – they bucket their applicants into different segments. The top 5% of their candidates get into invite/referral only Premium Talent database and it is ensured that only top quality companies are given access, so the candidates can get multiple offers from only high quality companies instead of random ones.
What usually happens in the market is that premium talent find jobs via their own network so at Jobspire, team makes sure that they provide candidates with convenience by introducing amazing companies and job offers as well as incentivize them on a hire.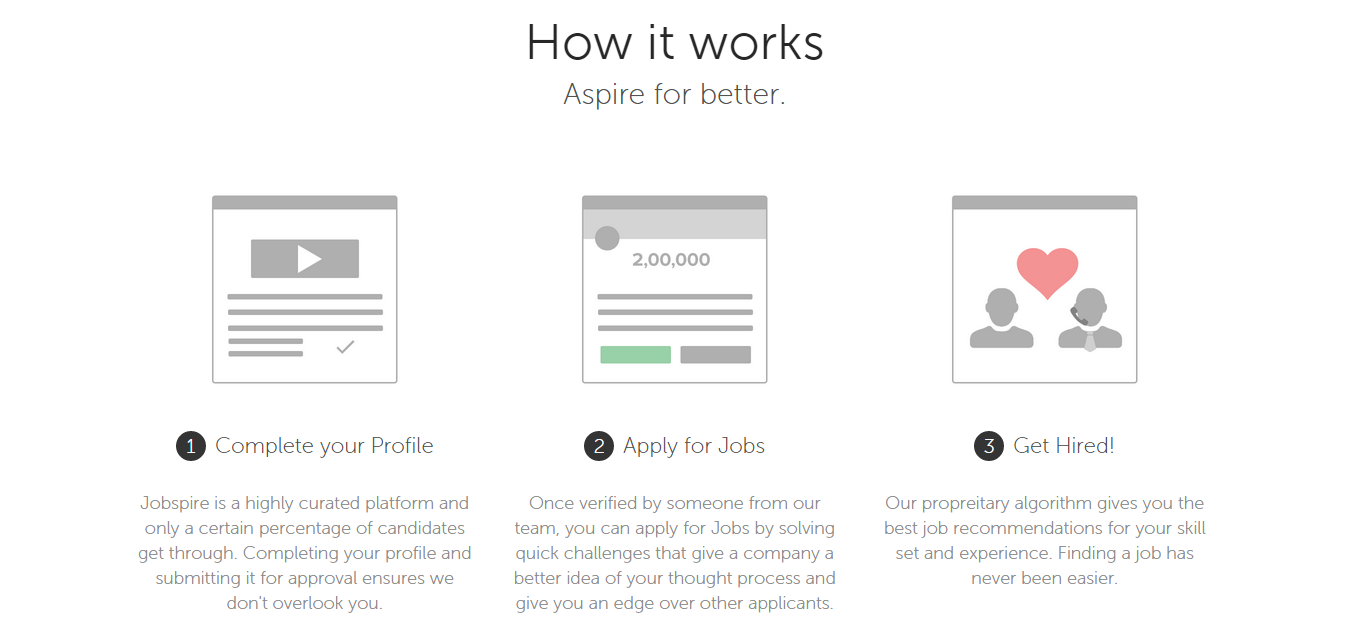 Jobspire brags that companies and candidates place complete trust in their selections and they even pay the candidates 3% of their CTC if they land a job. They have algorithms that detect when a hire happens on their Premium Select system and while they may one day slap a subscription on the entire thing, they're currently experimenting with a slightly harder to implement and track business model – pay per hire. Pivoting into a subscription model is easy, but the real challenge (and value for everyone using the system) comes from cracking Pay per hire. You can find about their premium talent database at premium.jobspire.net
The market has changed and fragmented considerably. There are very few recruitment companies in India that cater specifically to segment, but LinkedIn, Hiree(previously MyNoticePeriod), Instahyre and of course the famous old ones(Naukri, Monster) are close competitorsto Jobspire.
"We've been iterating the product really fast (it comes with working round the clock) based on customer feedback and our channels of customer acquisition are different. We have inbuilt virality in the product – people share company profiles on their social networks – something that no other recruitment portal can claim."
The aspiring minds behind Jobspire
Varun Mayya used to work with Kartik at a previous startup that they started in college called Sizr(www.sizr.net). Varun has been a full-stack developer since his first year and was practically living on his own earnings throughout college. He makes sure positions are filled internally(they hire from our own platform) and keep the company funded. While Varun has coded and done some design earlier, he doesn't find the time anymore to do that.
Kartik Luke Singh is CTO and he's one of the most experienced full-stack developers for his age. Varun and Kartik have worked together at a previous startup and he's freelanced with big clients like Rss.com and Pikapay while still in college. Varun boasts that Kartik is one of the smartest people he has met and that's coming from an entrepreneur who spends most of his time with talent.

Mohak Dhingra is head of Sales and marketing. He's worked for several years in college at AIESEC and was an executive board member. While this is his first attempt at running a startup, he's been a key player in getting companies on board and practically selling 24/7.
Sandesh Kini is COO and Head of Product. While Kartik determines HOW something is implemented, Sandesh handles the WHAT. He works closely with the sales and marketing team and fine tunes the product accordingly. He's also in charge of operations, as the team is expanding rather quickly.
Jobspire's currently a team of 10, with some of the sharpest and adaptive minds across all domains.
Two of their early employees, Pragya (head of Profiling) and Rushil (a full-stack developer who started from scratch) have been instrumental in their progress.
A roller coaster ride to Jobspire
"It's been a roller coaster ride of course. We had really humble beginnings out of a dorm room. I've been stressed, anxious, ecstatic and it's been one hell of a ride but you live life once and there's no known reset button, so might as well take it all in." says Varun.
They've survived earthquakes, constant travel between 4 cities, terrible internet, panic attacks, internal fights, college burden and everything under the sun. Earlier Varun used to take everything very seriously but today he has been desensitized and feel that to build a big business you need to take things with a pinch of salt.
As a team, they used to play a lot of Badminton together, especially when the going got tough. They made it a point to put culture first and made an extra effort to make new employees gel in well. It's paid off phenomenally for them so far, and hopefully will continue to in the future.
Both Varun and Sandesh had to make a few sacrifices though – they both had to quit the gym because there simply wasn't time and the context switch and the energy it drained them off were too much to bear. (:-P)
However, Varun believes that at the end of the day it all pays off when someone gets hired though. The team is contented that they're placing people 10 years older than them and making their lives for the next few years much easier. What better gratification than that? "The problem we're solving is extremely hard but the reward is the ability to see someone's life being made because of you. We could've made a fin-tech or food-tech app and solved people's needs for a few minutes a day, but Jobspire is our opportunity to shape what a person does every single day."
Journey to building a scalable company
Varun and the team are proud to say they create value in a multitude of ways. While some companies source from them, other companies use their curation services, some even replace their careers page with their Jobspire page. Smaller companies use them as a platform to help them get discovered. They're currently experimenting with pay-per-hire, which is a challenging model to scale but one that their proprietary technology is really helping them crack.
A year from now, Jobspire aims to be the platform to which every startup or company that's looking to hire quality talent would turn to this platform that wouldn't need a Stage 1 Interview at all. With the Human Metadata Index, Company Profiles and Challenges, Varun thinks it's possible to get there.

For candidates, the team want Jobspire to be the best place they can get to know a company, like they would do a friend – from discovering new workplaces, learning about their culture and the way they do things to getting all their queries answered on a dedicated Q&A platform, bypassing the first stage interview entirely with audio clips and challenge answers and finally, finding an opportunity where they'll be able to grow.
Links:
Web: jobspire.net
Read Jobspire blog: http://blog.jobspire.net/