Andrew Tate's online app, 'The Real World,' has faced significant backlash and has been removed from Google's Play Store following accusations that it operates as a pyramid scheme targeting teenage boys. Campaigners allege that the app is being used to channel users, particularly teenage boys, towards misogynistic beliefs.
The removal of 'The Real World' from Google Play has ignited calls for Apple to follow suit and eliminate the app from its App Store. This controversy has raised questions about the app's true intentions and its potential impact on impressionable young users.
Promoted as a "global community of like-minded individuals striving to create an abundance of wealth," 'The Real World,' formerly known as Hustlers University, claimed to be the world's most advanced financial educational app. However, it has come under scrutiny for misleading users with a fake Trustpilot rating of 4.8, while the actual rating on Trustpilot stands at 3.5, with numerous reviews categorizing it as a "scam."
Some users have reported dissatisfaction with the counseling services offered by 'The Real World,' citing them as too basic. Despite these concerns, users are charged up to $49.99 per month to access the platform, with the site announcing an impending increase to $147 per month. Members are promised access to 19 wealth creation methods and millionaire mentors.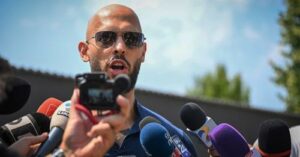 Despite the controversy, 'The Real World' boasted an active user base of over 220,000 on its dedicated Discord channel, and it was downloaded more than 100,000 times from the Google Play Store. However, these numbers have been overshadowed by a change.org petition initiated by Nathan Pope in July, calling on Google Play and the App Store to remove the app. The petition has garnered more than 15,000 signatures.
Critics argue that the educational content provided by 'The Real World' lacks depth and can be found for free online. This has further fueled suspicions about the true nature of the app's services and its commitment to providing genuine value to users.
'The Real World' is accused of operating as a pyramid scheme, where profits are generated for both the owners and users who recruit new members to the platform. The app's affiliate marketing program incentivizes users to promote 'The Real World' on platforms like TikTok, Instagram, and YouTube, offering a 48 percent sales commission for each new recruit obtained through their sign-up link.
Miles Sonkin, known as Iggy Semmelweis and one of Andrew Tate's close friends, revealed that the app's "prime demographic" is boys aged 12-18. This revelation has raised concerns about the potential influence on impressionable young minds.
Google removed 'The Real World' from its Play Store, citing potential violations of Google policies. However, the specific policy breaches that led to the app's removal have not been disclosed. In contrast, Apple, while emphasizing its rules against exploiting users, has not yet confirmed plans to remove the app from its App Store.
In conclusion, the controversy surrounding 'The Real World' serves as a stark reminder of the need for vigilance when it comes to online platforms, especially those targeting young users. The accusations of pyramid scheme practices and the app's impact on the beliefs of teenage boys have sparked a public outcry and put app stores under scrutiny for hosting such applications. As discussions continue, questions remain about the responsibility of app stores in ensuring user safety and ethical practices within the apps they host